Wednesday Forecast: Much cooler, blustery weather into Wednesday
Published: Oct. 19, 2021 at 4:54 PM CDT
|
Updated: Oct. 19, 2021 at 5:53 PM CDT
HASTINGS, Neb. (KSNB) - Big changes are expected as we head into Tuesday night and into the day on Wednesday as a strong cold front and low-pressure system are expected to roll across the state, bringing "winds" of change to the region.
Into Tuesday evening as the low pressure center spins across western Nebraska, a few isolated strong to severe thunderstorms will be possible out ahead of the system across parts of north central and into northeastern Nebraska. A marginal risk for severe weather is in place across those regions - large hail with some pockets of heavy rain will be the primary threats tonight.
At the same time, rain will transition to snow across parts of northwestern Nebraska into Tuesday night with areas of light snow possible into early Wednesday morning into north central Nebraska. Accumulations shouldn't be much, but there are Winter Weather Advisories in place across northwestern Nebraska through 9 AM on Wednesday. These areas could see 1″ to 4″ of snow into Wednesday morning.
Meanwhile, for the Tri-Cities and much of southern Nebraska, a few isolated showers or thunderstorms will be possible into Tuesday night, though the chances are pretty slim. Most, if not all, of the moisture we see with this system will likely stay across the northern third of the state. What we will see is increasing cloud cover and blustery winds turning from the south to the west and northwest as we head tonight and into the day on Wednesday. Through the day on Wednesday, we should see a good amount of cloud cover across the state with Tri-Cities, south central and southeastern Nebraska on the periphery of a deck of low clouds.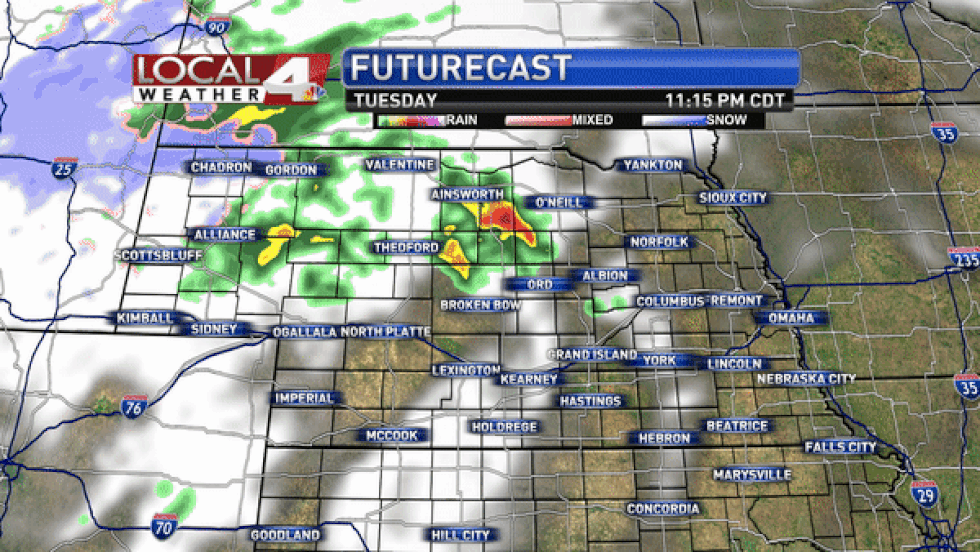 This will make for a tricky temperature forecast as those areas under cloudy skies on Wednesday will stay quite cool with those areas seeing some sunshine warming at least into the mid and upper 50s to near 60°. We'll likely see our "high" temperatures for Wednesday set around midnight, with much cooler temperatures into the day on Wednesday. Morning "lows" should range from the low 30s in the far west to the upper 50s in the far east.
Afternoon "highs" will be MUCH cooler with readings ranging from the low 40s in parts of northern Nebraska to the low to mid 60s in southeastern parts of the state. Look for highs in the low to mid 50s for Grand Island, Hastings, and Kearney.
The much cooler temperatures will be accompanied by strong westerly and northwesterly winds that should be sustained between 15 and 25 MPH with winds gusting between 30 and 40 MPH at times. The strongest winds will likely stay across northern Nebraska with slighter weaker winds as you move south.
The extended forecast has temperatures settle into the 60s for the rest of the week and into the weekend with generally dry weather. Temperatures look to hop back into the low to mid 70s by early next week. Chances for any moisture look pretty slim - especially outside the next 12 to 18 hours - we'll see another small chacne for some light precipitation Saturday night and into Sunday.
Copyright 2021 KSNB. All rights reserved.