Lots of wind, thunderstorms, and perhaps some snow are all a part of this forecast
Published: Oct. 26, 2021 at 8:08 AM CDT
|
Updated: Oct. 26, 2021 at 7:27 PM CDT
HASTINGS, Neb. (KSNB) - Some strong to severe thunderstorms are possible into Tuesday night as a frontal boundary will move in from the west overnight. Look for showers and thunderstorms to develop out west early this evening and make their way eastward across the area through the overnight hours. Some severe weather will be possible while the better chances will be to our south. If severe weather develops, the main threat initially will be large hail and damaging wind gusts. Later in the night, this will mainly become a damaging wind gust threat. There is a very low-end chance for an isolated tornado, mainly across northern Kansas.
As the front passes through, blustery southeast winds will become north northwesterly and remain blustery. Low temperatures tomorrow morning will range from the upper 30s west to the lower 50s east.
For tomorrow, some showers and isolated thunderstorms will remain over parts of Central and Eastern Nebraska, but continue pushing eastward. Meanwhile, sunshine gradually returns out west. Winds will remain quite strong out of the north northwest at 20 to 35 mph with gusts to 45 mph. High temperatures on Wednesday will range from the lower 50s east to the lower 60s west with sunshine. The last of the showers will slowly clear out of Eastern Nebraska Wednesday night. Skies will slowly clear up in Central Nebraska.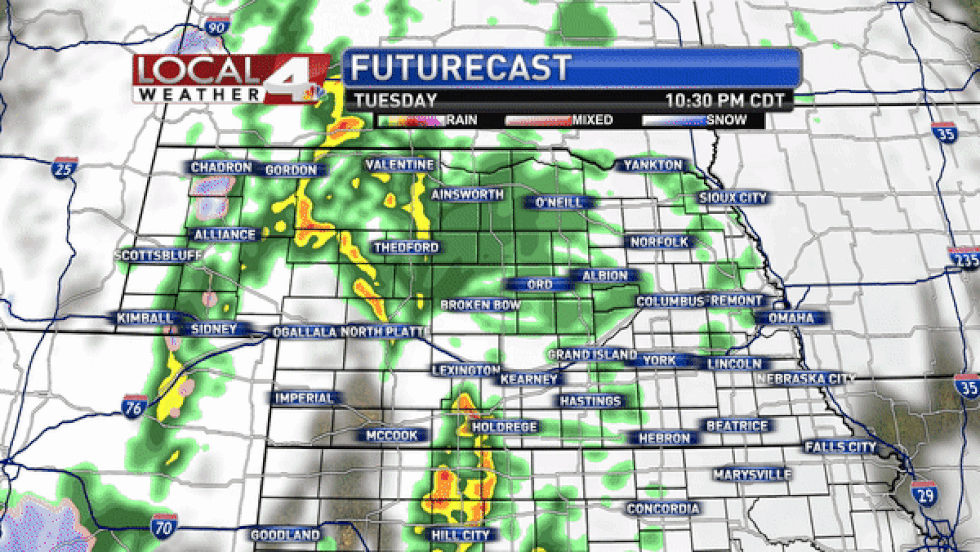 Despite the clearing, strong north northwesterly winds will keep temperatures elevated. Lows will range from the upper 30s west to the mid 40s east. Expect plenty of sunshine on Thursday, but the winds will remain quite strong out of the north northwest. Expect winds of 20 to 40 mph with gusts of 45 to 55 mph. High temperatures will mostly be in the mid to upper 50s.
Nicer weather is expected for the end of the week. There will be plenty of sunshine both Friday and Saturday. Saturday will be breezier, but Friday shouldn't be too bad. Friday starts off chilly in the upper 20s to upper 30s across the area. Highs on Friday will get to the upper 50s and low to mid 60s with the warmest temperatures out west. Lows Friday night will again mostly be in the mid to upper 30s. Saturday should be the best day for awhile with highs from the mid/upper 50s north to the mid/upper 60s south. A cold front will begin pushing southward in the afternoon.
Sunday (Halloween) doesn't look terribly nice as clouds will be filling in and much cooler temperatures arrive from the north. Highs will only be in the 40s to near 50°. By Sunday night into Monday, some moisture will be pushing southward into the area. With cold enough temperatures, this could be a mix of rain and snow. Most models are now most favorable for snow west of Highway 281, but this far out, there is still too much uncertainty. While this does not seem to be a major snow-maker, accumulating snow does look possible for parts of the Local4 viewing area. With the moisture continuing into Monday, it'll likely be another chilly day with highs in the low to mid 40s.
Copyright 2021 KSNB. All rights reserved.