A quick cool down into Tuesday, more unseasonably warm weather for Wednesday & Thursday
November 29, 2021 Evening Forecast
Published: Nov. 29, 2021 at 3:15 PM CST
|
Updated: Nov. 29, 2021 at 7:21 PM CST
HASTINGS, Neb. (KSNB) - As we get ready to finish November and begin December, unseasonably warm weather continues to headline the forecast. Tuesday will be a bit cooler with some thicker cloud cover and maybe a sprinkle or two, but overall the weather over the next few days will be reminiscent of early October as opposed to early December!
Tonight, a cold front is forecast to sink through the area, which will bring in more clouds with some light rain possible across parts of northern and northeastern Nebraska. Any moisture we see out of this will be extremely light, with perhaps a few hundredths of an inch of moisture. For Grand Island, Hastings, and Kearney, we may just see a few sprinkles into Tuesday morning. The clouds should begin to clear out as we head into the afternoon with skies eventually becoming mostly sunny.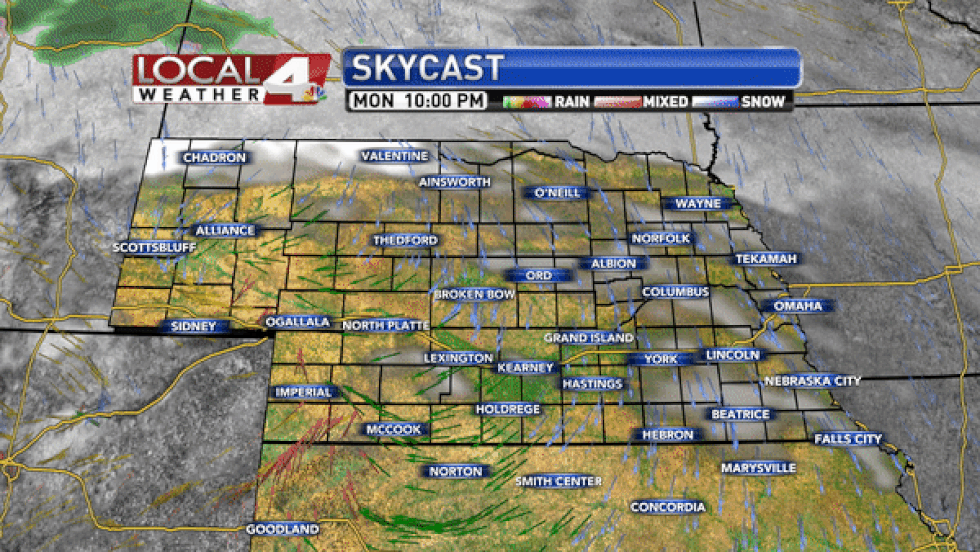 Thanks to the extra cloud cover tonight, our overnight lows should remain quite mild and about 10° above average. Look for temperatures in the mid and upper 30s for most of the area as we start Tuesday with some lower 30s in the far west.
Into Tuesday afternoon, we will see some cooler air settle into the area. We should see highs that will be cooler than Monday, but still pretty decent for the final day of November. Look for highs to reach the mid and upper 50s for most of us.
Temperatures into Wednesday will jump right back into the 60s to low 70s across the state as another warm front will slide through the state. Look for a mix of sun and clouds on Wednesday with dry weather and westerly winds at 10 to 20 MPH.
Thursday will be the nicest - and the warmest - day of the week. We'll see plenty of sunshine and winds will be out of the west southwest at 5 to 15 mph. Look for highs on Thursday into the low to mid 70s, which will be pushing into record high territory for nearly everyone across the state. The record high in Grand Island is 70° (2012), in Hastings it is 68° (2012), and in Kearney it is 70° (2012). The forecast would have all three cities setting a new record high - plus other areas across the state like Lincoln, Norfolk, McCook, North Platte, Valentine, and Scottsbluff.
The next shot of cooler air arrives Friday as highs will mostly range from the lower 50s north to the lower 60s south. North northeast winds of 10 to 20 mph with gusts to 25 mph are expected. Skies will still be mostly sunny. It will be a bit chillier on Saturday with partly to mostly sunny skies. Highs will range from around 40° northeast to around 50° southwest. Despite the drop in temperatures, these will still be near to slightly above average. Sunday looks slightly warmer with highs from the upper 40s north to the upper 50s south. Skies will again be partly to mostly sunny. Winds will be breezy again.
It looks like temperatures will settle down to near or slightly above average for early next week, but no major weather makers are on the way. Later next week, there are signs of a weather pattern changes, but there is no certainty in that being so far out. But until then, enjoy the continued unusually mild weather.
Copyright 2021 KSNB. All rights reserved.