COVID-19 Health Advisory discontinued in Hastings area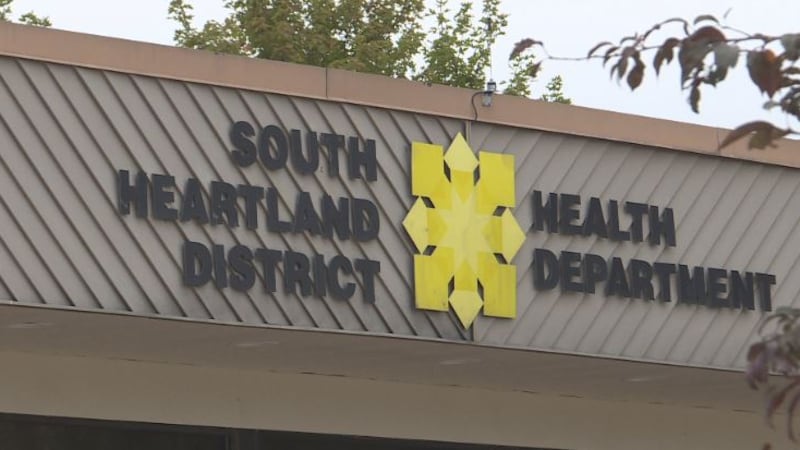 Published: Mar. 15, 2022 at 9:54 PM CDT
HASTINGS, Neb. (KSNB) - In the weekly COVID-19 update on March 15, South Heartland District Health Department (SHDHD) reported the district had maintained an overall 'moderate to substantial' community transmission of SARS-CoV-2 for 14 days in a row.
SHDHD Executive director Michele Bever said the department's COVID-19 Health Advisory, which had been downgraded from a COVID-19 Health Alert on February 15, is being discontinued for the district. As an awareness tool, the Health Advisory was to be in effect until community transmission was reduced to less than 'high' which meant less than 100 new cases per 100,000 people in the past seven days and below 10% positivity (percent positive tests), with both metrics sustained at those levels for at least 14 days.
"There is still some variation from county to county, with some of our counties marking above those thresholds in the last 14 days," Bever said. "However, for the district as a whole, we have remained below the 'high' threshold for case rate for the past 14 days and below the 'high' threshold for community positivity for the past two weeks. In our individual counties, the risk of community transmission currently ranges from low to high, based on the SHDHD case rate and positivity metrics, and is low to medium based on the CDC's Community Levels."
Bever encouraged residents to continue to monitor their health and get tested if they experience symptoms. She emphasized that timing of treatment is critical, especially for individuals who are at higher risk of complications from COVID-19 illness.
"People who are at higher risk should not wait to see how their illness progresses," she said. "Everyone, especially people who are more likely to get very sick from COVID-19, and those who care for or work with those who are high risk, should keep some at-home COVID-19 test kits on hand or seek testing early. If you have even mild symptoms, get tested.
Bever said free eMed at-home COVID-19 test kits are available for pick up at locations in every South Heartland county.
"Test kits are available for the general public at various locations in Adams, Clay, Nuckolls and Webster Counties," Bever said. "Test kits were also distributed to schools, childcare centers and other congregate settings for their use. We encourage everyone to have a couple of at-home test kits on hand 'just in case' you have symptoms, so you can test quickly and easily.
A list of locations where members of the public can pick up the free eMed at-home test kits is posted on South Heartland's website: southheartlandhealth.org. The locations for other types of COVID-19 testing are also listed on the website.
Bever said South Heartland's recommendations for individual action are based on the CDC's COVID-19 Community Levels guidance:
If you are immunocompromised or at high risk for severe illness, talk to your healthcare provider about whether you need to wear a mask and take other precautions.

Stay up-to-date with COVID-19 vaccines. Being fully-vaccinated and getting a vaccine booster shot are critical for the highest protection again severe illness.

Get tested if you have symptoms. Go to southheartlandhealth.org to find COVID-19 testing locations and where to pick up free at-home tests.
People may choose to mask at any time to protect themselves and others. People with symptoms, a positive test, or exposure to someone with COVID-19 should wear a mask.
SHDHD recommends COVID-19 vaccines for anyone 5 years and older. Residents may contact their personal doctor or the health department if they have questions about the COVID-19 vaccine, additional doses for immunocompromised individuals, booster doses, or COVID-19 testing. For locations of COVID-19 tests or COVID-19 vaccine, refer to the SHDHD website, southheartlandhealth.org.
Additional SHDHD COVID-19 data updates:
13 confirmed COVID-19 cases logged last week, a 7% decrease over the previous week's total of 14 cases. There have been 8 confirmed cases counted in the current week through Tuesday.

Cumulative case total for the health district is 10,217 since March 2020. This total accounts for data quality review corrections applied on 03/11/22.

Rolling 7-day total of new cases per 100,000 people, as of March 15 is 28.8 cases per 100K. "Moderate" community transmission is 10.00-49.99 cases per 100K in the past 7 days. "Low" community transmission is less than 10 cases per 100K in the past 7 days.

Percent positive tests, or positivity: Community positivity (based on tests in people who do not live or work in long term care) increased to 9.7% for the week ending March 12, indicating one of every 9-10 people who were tested were positive for COVID-19. This indicates "substantial" community transmission. Goal for "low" transmission is to get to, and stay below, 5% positivity.

Surveillance testing in long-term care facilities showed a decrease in positivity to 0.6% compared to 0.8% the prior week. In the past 2 weeks, only one (1) long-term care facility reported residents or staff testing positive for COVID-19.

Testing decreased by 1%, with 287 tests logged last week compared to 290 the previous week. Reminder: at-home/self-tests are not included in the case or test counts.

Hospital capacity metrics continue to be favorable. As of March 15, there were no COVID-19 patients hospitalized and 45.5% of staffed ICU beds were available.

As of March 10, the CDC's new COVID-19 Community Levels tool showed Adams, Clay, and Webster counties at 'Low' and Nuckolls County at 'Medium' community transmission level.

COVID-19 vaccination: 48.6% of residents are fully vaccinated; 29% have received boosters. To date, 6% of children ages 5-11, 19% of children ages 12-15, and 24% of young people ages 16-19; 43% of ages 20-34; 54% of ages 35-44; 55% of ages 45-54; 62% of ages 55-64; 90% of ages 65-74; 89% of ages 75-84; and 93% of ages 85+ are fully vaccinated.
Copyright 2022 KSNB. All rights reserved.