South Heartland Health updates COVID-19 cases, vaccination numbers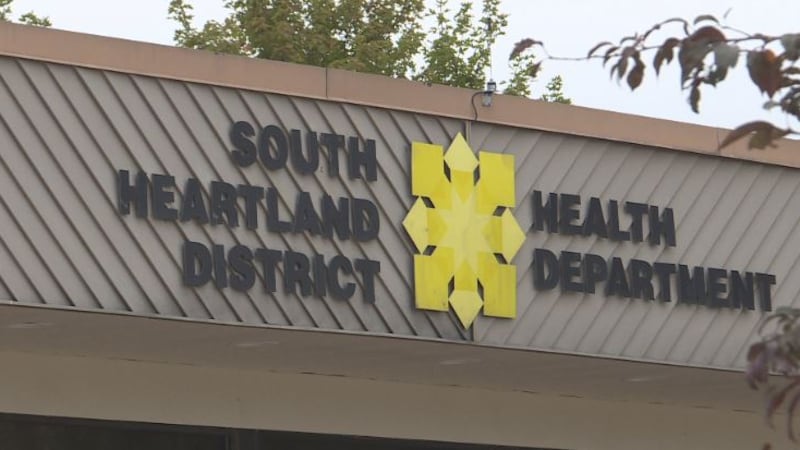 Published: May. 26, 2022 at 7:22 AM CDT
HASTINGS, Neb. (KSNB) - In the weekly COVID-19 update on May 24, South Heartland District Health Department (SHDHD) executive director Michele Bever provided current data on COVID-19 cases in the district. Bever also shared recommendations for COVID-19 vaccination and boosters for children and teens, including the importance of staying up to date on vaccination.
Bever said cases were increasing again in the district, with a seven-day rolling case rate of 73 per 100,000 (substantial/orange level) as of May 24. In addition, more long-term care facilities are being affected with staff or residents testing positive for COVID-19, and the health district is beginning to see more hospital admissions due to COVID-19.
"We know, for COVID, that disease-induced and vaccine-induced immunity wanes over time. So, to boost your protection against severe illness, it is important to get vaccinated with the initial series, then get boosters when you are eligible," she said. "This includes children ages five and older."
According to the Centers for Disease Control and Prevention (CDC), the benefits of COVID-19 vaccination outweigh the known and potential risks of getting COVID-19 disease. Children who get COVID-19 can get very sick, can require treatment in a hospital and, in rare situations, can even die.
After getting COVID-19 disease, children and teens can experience a wide range of new, returning, or ongoing health problems, such as trouble concentrating, ongoing muscle and joint pain, or mental health challenges. "Getting children vaccinated can help prevent them from getting really sick even if they do get infected. Vaccination can also help prevent serious short- and long-term complications of COVID-19," she said.
Just like with adults, children or teens with underlying medical conditions or who have a weakened immune system are more likely to get severely ill from COVID-19. Those without underlying medical conditions can also get very sick. In fact, almost half of children younger than 18 years old hospitalized with COVID-19 have no underlying health conditions.
"Even if they have already had COVID-19, it is not too late for anyone, including children, to get vaccinated and begin building their protection against severe COVID-19 illness that could be caused by the current or future variants of SARS-CoV-2," Bever said.
For more information about how COVID-19 disease affects children and the benefits of COVID-19 vaccination, Bever recommends that parents talk to their doctor or a pediatrician, or visit healthychildren.org, a website about children's health hosted by the American Academy of Pediatrics. The CDC also has information about COVID-19 vaccination for children and teens (https://www.cdc.gov/coronavirus/2019-ncov/vaccines/faq-children.html).
For locations offering COVID-19 vaccine or COVID-19 tests, refer to the SHDHD website, southheartlandhealth.org. For general COVID-19 updates, visit the UNMC Global Center for Health Security: https://www.unmc.edu/healthsecurity/covid-19/biweekly-updates.html.
05.24.2022 SHDHD COVID-19 data updates:
New on the SHDHD COVID-19 Dashboard: Links to COVID-19 Genomics Surveillance reports (Nebraska variant trends) and Nebraska Wastewater Surveillance reports (includes Hastings).

32 confirmed COVID-19 cases logged last week compared to 21 the week before; 12 confirmed cases counted in the current week through Tuesday.

Cumulative case total for the health district is 10,340 since March 2020.

Rolling seven-day total of new cases per 100,000 people increased to 73.0 cases per 100K on May 24, considered substantial (orange level). This is an undercount, since most at-home testing is not reported. "Low" community transmission is less than 10 cases per 100K in the past seven days.

Percent positive tests, or positivity: Community positivity (based on tests in people who do not live or work in long term care) increased to 25.0 percent for the week ending May 21, indicating one of every four people who were tested were positive for COVID-19. Goal for "low" transmission is to sustain below five percent positivity. (Caution: Because at-home tests are not reported, SHDHD is unable to know how well this metric represents the true status of COVID in the community.)

Surveillance testing in the long-term care facilities: in the past 2 weeks, four long-term care facilities reported any residents or staff testing positive for COVID-19.

Testing increased by 11 percent with 228 tests logged last week compared to 206 the previous week. Reminder: at-home/self-tests are not included in the case or test counts.

Hospital capacity metrics as of May 24: two patients hospitalized with COVID; 64 percent of staffed ICU beds available.

C.D.C.'s Community Levels, which are updated weekly on Thursdays and are a combined metric that includes hospital data, currently show Adams, Clay, Nuckolls and Webster Counties at "low" community level.

SHDHD COVID-19 vaccination: 49 percent of all residents are fully vaccinated and 30 percent are boosted. To date, six percent of children ages 5-11, 19 percent of children ages 12-15, and 24 percent of young people ages 16-19; 43 percent of ages 20-34; 54 percent of ages 35-44; 55 percent of ages 45-54; 62 percent of ages 55-64; 91 percent of ages 65-74; 91 percent of ages 75-84; and 96 percent of ages 85+ are fully vaccinated.
Copyright 2022 KSNB. All rights reserved.