Four more COVID deaths confirmed in Hastings area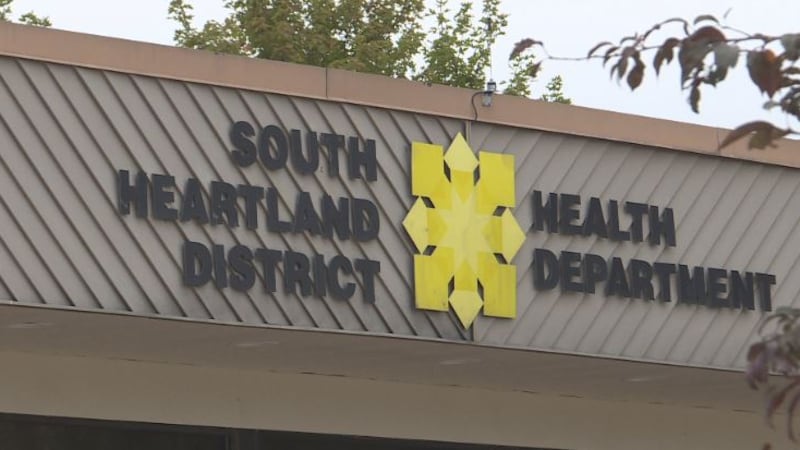 Published: Oct. 4, 2022 at 9:47 PM CDT
HASTINGS, Neb. (KSNB) - In the health department's weekly health update on October 4, South Heartland District Health Department (SHDHD) executive director Michele Bever reported that four additional COVID-19 deaths had been logged for the health district, bringing the new total COVID-19 deaths to 155.
Two of the deaths occurred in the past 2 months and the other two occurred previously. Deaths are not counted or reported until South Heartland receives a death certificate COVID-19 confirmation from Nebraska Department of Health and Human Services.
Bever said local COVID-19 statistics are continuing to improve. The department noted a moderate level of 49 new cases per 100K in the past 7 days, one long-term care facility with staff or residents testing positive, only one COVID patient in area hospitals, and "low" levels of virus measured from samples of wastewater in Hastings.
However, the health department continues to monitor the national and global trends in cases, as well as emerging variants. Several other countries, including the United Kingdom, France, Germany and Italy, are beginning to track another upswing in COVID-19 cases. This may be a forecast of what to expect locally, since COVID trends in the United States typically lag several weeks behind the European countries. In the U.S., the variants BA.4.6 and BF.7 are growing more prevalent week over week, according to the CDC's COVID Data Tracker.
"In our health district, laboratory testing for COVID is down 20% compared to last week," Bever said. "Due to decreased laboratory testing, and also because there is more at-home testing, there are fewer opportunities to sequence specimens, which reduces our ability have a clear picture of which variants may be circulating in our four counties. What we know from the state genomic surveillance report is that about 88% of the circulating virus in Nebraska is the BA.5 variant and about 8% is BA.4.6."
The health department encourages residents to get up-to-date on their COVID-19 boosters and to schedule their flu shots.
"Keep yourself and your family healthy by getting your flu shots and staying up-to-date with COVID-19 vaccinations," Bever said. "These are the best prevention steps so that you and your family members can continue – uninterrupted - with work, school and other activities this fall and winter."
Although COVID community levels are lower right now, the health department continues to encourage all residents, especially those who are most at risk of severe illness to protect themselves by staying up-to-date on vaccine and getting their bivalent booster when they are eligible.
"In addition to protecting yourself, staying up-to-date on COVID-19 vaccinations helps to keep spread of the virus low in the community," she said. "There is also emerging evidence that being up-to-date on your COVID-19 vaccines could reduce your risk of post-COVID conditions, also called long-COVID."
SHDHD's website, southheartlandhealth.ne.gov, has a COVID-19 vaccine webpage that lists locations carrying the COVID-19 vaccine, and provides information on eligibility for the primary series vaccines and bivalent booster doses. SHDHD also has a flu vaccine webpage which lists locations in Adams, Clay, Nuckolls and Webster counties where influenza vaccine is available. The flu vaccine webpage includes the hours, how to schedule, whether walk-ins are welcome, insurance billing, and contact information for each clinic or pharmacy: https://southheartlandhealth.ne.gov/what-we-do/immunizations/seasonal-influenza-flu.html.
Some of these locations offer both flu shots and COVID-19 vaccines. South Heartland's COVID-19 vaccine clinic will also have flu shots available on October 19 and October 26. Bert's Pharmacy will be providing the flu vaccine at these clinics, which are held from 4 p.m. to 6 p.m. at the west end of Allen's in Hastings.
"If you are eligible for your next COVID booster, it is safe to get a COVID shot and a flu shot at the same time," Bever said.
For locations offering COVID-19 vaccine or COVID-19 tests, refer to the SHDHD website, southheartlandhealth.ne.gov or call the health department office, 1-877-238-7595.
SHDHD COVID-19 dashboard update on 10.04.2022:
18 confirmed COVID-19 cases logged last week compared to 24 the week before

11 confirmed cases counted in the current week through Tuesday

Long-term Care Facilities: 1 facility with staff and/or residents testing positive in the past 2 weeks

Hospitals: 1 patient hospitalized due to COVID as of 10/04/22

Case rate is "moderate": 49 cases per 100,000 for the past 7 days on 10.04.22 (100 or more cases per 100K in 7 days is considered High)

Community weekly positivity: 22.2% for the week ending 10/01/22 (10% is considered High)

Testing for last week decreased by 20% over the previous week. Testing does not include results from at-home tests, which are not included in the case counts and are not required to be reported to the health department.

Cumulative case total for the health district: 11,305 since March 2020

Preliminary data in the most current Nebraska Genomic Surveillance Report shows that 88% of the circulating virus is BA.5.
Most current Nebraska Wastewater Surveillance Report shows "low" virus levels for Hastings (samples from 9/20/22)
Other South Heartland District COVID-19 trends may be found on SHDHD's COVID-19 dashboard at southheartlandhealth.ne.gov
Copyright 2022 KSNB. All rights reserved.