Huskers Fall to No. 3 Buckeyes, 76-67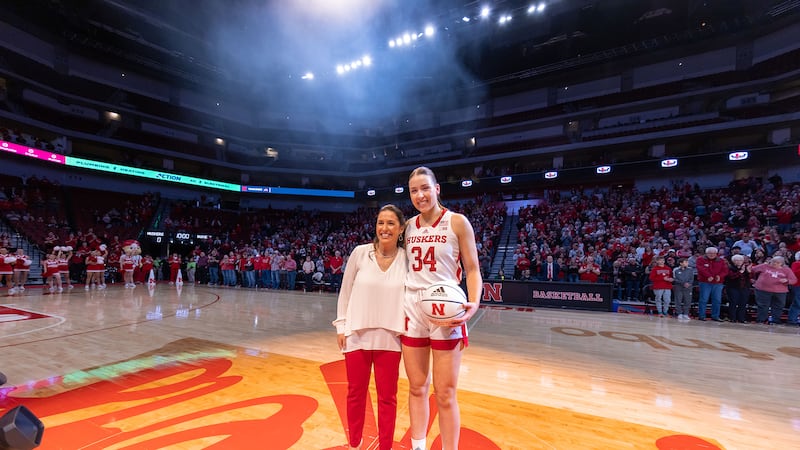 Published: Jan. 14, 2023 at 4:58 PM CST
|
Updated: Jan. 14, 2023 at 10:51 PM CST
LINCOLN, Neb. (Press Release) -Sam Haiby put up season highs with 16 points and seven rebounds, but No. 3 Ohio State remained unbeaten with a 76-67 women's basketball win over Nebraska on Saturday afternoon at Pinnacle Bank Arena.
The Buckeyes (18-0, 7-0 Big Ten) jumped to a 25-12 lead after one quarter and pushed the margin to 17 midway through the second quarter before Nebraska rallied. The Huskers (11-7, 3-4 Big Ten), who suffered their fifth loss to a top-10 opponent including their third to a top-10 team, cut the lead to 42-32 at the half before opening the third quarter on a 7-0 run to trim the OSU edge to just 42-39.
Alexis Markowski, who finished 15 points and eight rebounds, including 12 points in the first half, led Nebraska in the opening 20 minutes while freshman Callin Hake produced double figures for the fourth time in five games with 11 points, including nine in the first half on a trio of three-pointers, to help the Huskers keep Ohio State within single digits until late in the second quarter before the Buckeyes surged again.
Rebeka Mikulasikova, who led Ohio State with 25 points and seven rebounds, scored nine straight points for OSU to turn a 48-45 lead into a 57-49 edge late in the third. The Buckeyes pushed the margin to 62-50 at the end of three periods, capped by a three-point play from Taylor Thierry, who finished with 13 points and eight boards.
Ohio State then took its biggest lead of the game on Taylor Mikesell's only second-half points, which came on a short floater with less than four minutes left to make it 74-56. Mikesell finished with 14 points, despite committing a game-high eight turnovers.
The Big Red battled to the final buzzer, outscoring the Buckeyes 11-2 down the stretch including six straight points from Bourne, who finished with 13 points and eight rebounds. Jaz Shelley, who finished with six points, four rebounds, six assists and five steals, capped Nebraska's day with a three-pointer with 24 seconds left. It was NU's only three of the second half, as the Huskers outscored the Buckeyes 35-34 after halftime despite going 1-for-14 from three-point range.
On a day that Nebraska finished just 5-for-27 from three-point range, the Buckeyes found the winning margin by going 8-for-15 from beyond the arc. OSU also outscored NU 10-6 at the free throw line, but the Huskers won nearly every other statistical category.
Nebraska pulled down a whopping 21 offensive rebounds and won the turnover margin, 18-12 against a Buckeye team that entered the game with a plus-10 average turnover margin on the season. The Huskers outscored OSU 24-9 on second-chance points and 21-13 in points off turnovers. NU also outscored Ohio State 42-36 in the paint and held the athletic, full-court pressing Buckeyes to just four fastbreak points.
Nebraska's effort result in 20 more field goal attempts (76-56) than the Buckeyes, but Ohio State hit 29-of-56 field goals (.518), while the Huskers hit just 28-of-76 (.368).
Nebraska returns to Big Ten road action on Wednesday, when the Huskers travel to Purdue. Tip-off between the Huskers and Boilermakers in West Lafayette, Ind., is set for 6 p.m. (CT) with a live video stream provided by B1G+ and free live audio on Huskers.com from the Huskers Radio Network.
Copyright 2023 KOLN. All rights reserved.