Heart of South Omaha could see major renovations to its business district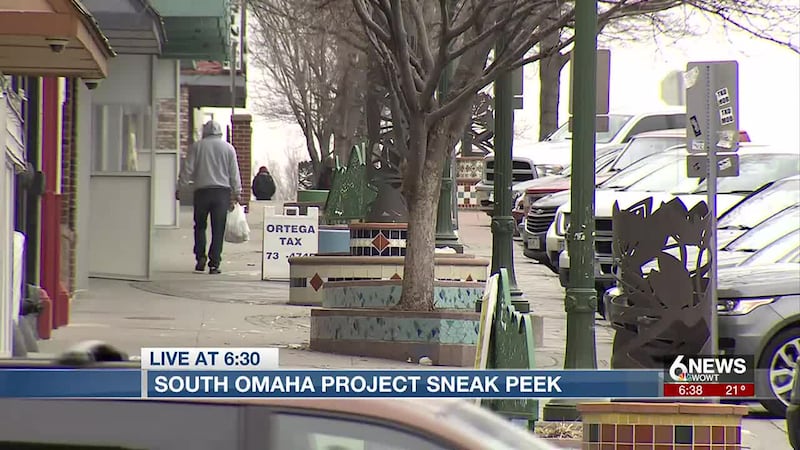 Published: Feb. 24, 2023 at 7:00 PM CST
OMAHA, Neb. (WOWT) - The heart of South Omaha could soon see some big changes to its business district. Metro community leaders and organizations see it as an unfinished project.
As you walk the sidewalks of South 24th Street you'll notice the lively painted buildings, tiles, and decorated lights.
The vibrant atmosphere tops it all off with music.
"24th Street is perhaps the strongest commercial corridor in south Omaha neighborhoods," said Cesar Garcia, executive director of Canopy South.
However, what you might not know is that all these eye-appealing details are part of a project that began fifteen years ago.
"It started with John Barrientos and RDG, they did it in phases and they did the first couple of phases but the third phase never got done and that's the Plaza del La Raza," Mora said.
Marcos Mora is one of the board members of the Latino Business District Board. Mora says La Plaza del La Raza is going to transform into a gathering space for families and a place to hold community events, but this is only part of the plan.
Another idea is to make more nearby businesses feel more connected to the 24th Street corridor by expanding the tiles and details to other streets.
"The idea is going to be to do any repairs we need to get done in this corridor and expand it to F Street," Mora said.
They're also hoping to put in a parking garage to make it easier for people to enjoy what the busy area has to offer.
"So, our goal is to have a parking structure for our special events and our overflow, especially for the weekends," Mora said.
For years, several South Omaha organizations have been teaming up to gather enough funds to make all this happen -- and they think their chance has arrived.
Garcia believes they have a good shot at getting ARPA money to complete this project.
"Continue providing opportunities to continue supporting this community and also the tourism and celebrating our culture," Garcia said.
This means opening doors of opportunity, with a new community center too.
"A hub that has job programming, economic development, workforce development, and educational opportunities," Mora said.
Mora said the main goal is to show what the Hispanic and Latino community can do for South Omaha.
South Omaha will likely hear back from the state about whether or not they'll receive ARPA funds in the summer.
Mora and Garcia hope people contact their state senators and urge them to support giving money to the project.
Metro leaders plan to meet Monday to discuss project developments.
Copyright 2023 WOWT. All rights reserved.