Georgia's Jalen Carter, top NFL prospect, gets 1-year probation, $1,000 fine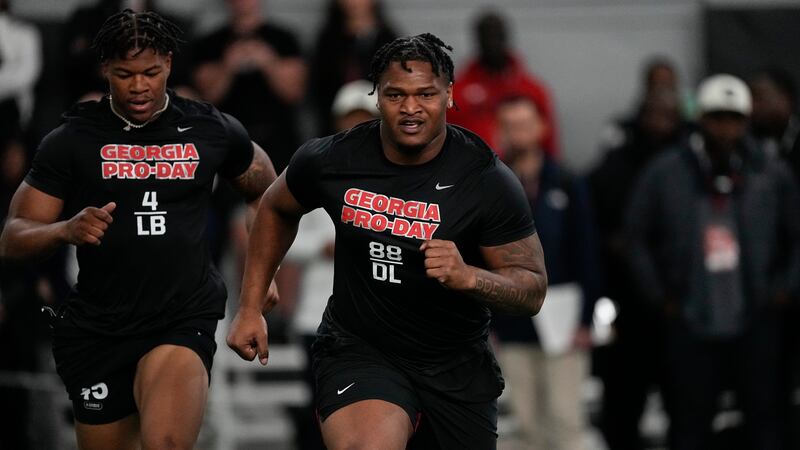 Published: Mar. 16, 2023 at 12:31 PM CDT
|
Updated: Mar. 16, 2023 at 2:28 PM CDT
ATHENS, Ga. (AP) — Georgia defensive tackle Jalen Carter was given 12 months' probation and a $1,000 fine on Thursday after pleading no contest to misdemeanor charges of reckless driving and racing related to a crash that killed Bulldogs offensive lineman Devin Willock and a recruiting staff member.
Projected as one of the top players in next month's NFL draft, Carter was sentenced in Athens-Clarke County Municipal Court, according to a statement from attorney Kim T. Stephens. Carter also must complete 50 hours of community service and a state-approved defensive driving course, and his driving privileges have been suspended for 120 days.
The state can't bring additional charges against Carter, the statement said, adding that Carter entered the pleas "in order to resolve this matter in the most efficient manner possible."
Athens-Clarke County Solicitor General Will Fleenor said in a statement that law enforcement evaluated whether more serious charges were needed. Talks between his office, the district attorney's office and the prosecuting attorneys' council determined the traffic offenses were appropriate.
The Athens-Clarke County Police Department had issued an arrest warrant for Carter on March 1, alleging that he raced his 2021 Jeep Trackhawk against a 2021 Ford Expedition driven by recruiting staffer Chandler LeCroy on Jan. 15. LeCroy, 24, and Willock died in the crash, which happened hours Georgia celebrated its second consecutive national championship with a parade and ceremony.
Stephens' statement said Carter's actions did not cause the accident and that he would have faced more serious charges if the investigation had determined otherwise. The statement also said Carter remained on the scene of the accident and returned even after being told he could leave to answer additional questions.
Carter was not under the influence of alcohol or any other illegal substance, the statement added.
"Mr. Carter continues to grieve the loss of his friends and continues to pray for their families, as well as for continued healing for injured friends," the statement said.
Carter worked out at Georgia's pro day on Wednesday, but appeared to suffer from cramps and left without speaking to the media.
___
AP college football: https://apnews.com/hub/college-football and https://twitter.com/ap_top25 Sign up for the AP Top 25 newsletter here: https://link.apnews.com/join/6nr/morning-wire-newsletter-footer-internal-ads
Copyright 2023 The Associated Press. All rights reserved.