No. 6 Creighton beats No. 11 N.C. State 72-63 pulling away in second half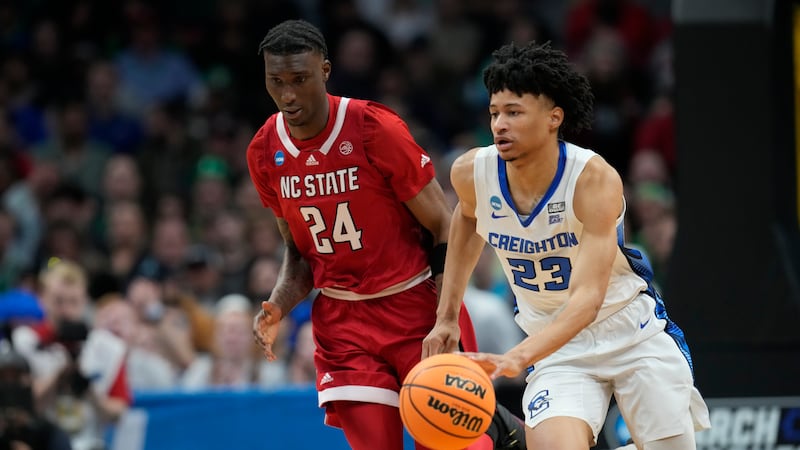 Published: Mar. 17, 2023 at 5:03 PM CDT
DENVER, CO. (WOWT) - Creighton moves on to the Round of 32 with a72-63 win over the Wolfpack inside Ball Arena in the Mile High City to move on to the Round of 32 on Sunday.
In his NCAA Tournament debut in a Jays uniform, guard Baylor Sheierman hit s three in the first 12 seconds to ignite a 7-0 run for CU to start the game. Creighton wouldn't hit another shot from beyond the arc for the remainder of the half, going 1-of-13 from three-point range. NC State's first points came four minutes into the action with a layup from guard Jarkel Joiner. NC State guard Terquavion Smith collected two fouls in the first two minutes of play, however, accounted for six of the Wolfpack's first ten points.
Center Ryan Kalkbrenner dominated the rim in the first half with three dunks and a layup while also hitting a mid-range floater. The BIG EAST Defensive Player of the Year didn't commit his first foul until six minutes left in the first half while putting up a team-high 11 points in the first 20 minutes of play. Kalkbrenner scored a season-high 31 points.
With just over two minutes left in the first half forward Mason Miller exited the game with an apparent lower body injury. Miller later was taken in a wheelchair off the sideline and back to the locker room.
CU held a two-point lead going into halftime, 28-26.
Creighton opened the second half with yet another Kalkbrenner dunk, however, NC State quickly stole the momentum with an 11-0 run to go up by seven. Following their run, the Wolfpack ran into foul trouble with forward D.J. Burns Jr. picking up his third and Ebenezer Dowuona picking up his fourth. Burns later ??? fouled out???
Kalkbrenner proved unstoppable in the second half as well, knocking down a three and four free throws to cap a Jays 9-0 run to take the lead by two. Later in the half the seven-foot-one junior electrified the crowd with an alley-oop dunk from guard Ryan Nembhard to give Creighton a three-point lead, 47-44. Two minutes later, guard Trey Alexander gives the Jays their biggest lead since the first four minutes of the game with a jumper to go up by seven.
Up until the 13:37 mark in the second half, the Wolfpack was 1-of-11 from the three-point line. With 6:33 to go, Smith and Jack Clark hit back-to-back treys to get within three of the Jays.
Copyright 2023 WOWT. All rights reserved.