Creighton advances to Sweet Sixteen beating Baylor 85-76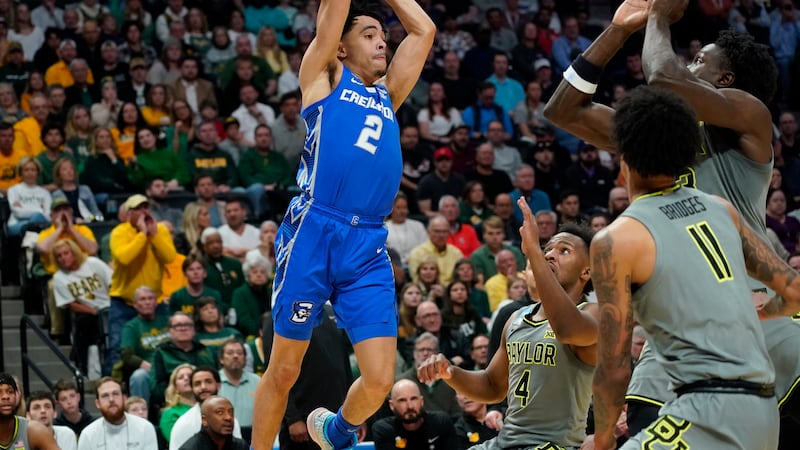 Published: Mar. 19, 2023 at 8:20 PM CDT
DENVER, CO (WOWT) - Creighton is back in the Sweet 16 for the second time in three years, beating No. 3 Baylor 85-76. Facing the program that beat his brother in the national championship two years ago, Ryan Nembhard delivered a career-high 30 points.
For the second game in a row, guard Baylor Sheierman opened up the scoring for the Jays with a three. Less than five minutes into the game and the Jays' long-range shots are already off to a better start than against NC State on Friday. Off the bench guard Francisco Farabello hit a corner three to give the Jays the lead 12-10. Two minutes later, Farabello drained another trey to put Creighton up by 6. Ryan Nembhard adds two more to the board from the charity stripe capping an 8-0 run for CU.
With 8:30 left in the first half, Nembhard drives to the hoop for the lay-in and gives the Jays the largest lead of the game, 24-14. Baylor guard Adam Flagler hits back-to-back jumpers to get the Bears within six with six minutes left in the first frame. Forward Arthur Kaluma gets in the three-point party putting CU ahead by 11 with 3:34 to go in the first half. The Bears responded with two slams from Josh Ojianwuna and Jalen Bridges, respectively. Jays close out the half the same way it started: a Sheierman three. Creighton goes into halftime with a 10-point lead, 39-29.
The Bluejays open the final 20 minutes of play with a slam from Kaluma to go up by 12. The Bears cut the Jays' lead to eight, only for Nembhard to bury his second three giving Creighton the 12-point lead. Halfway through the second half, Nembhard feeds it to Kalbrenner for the lay-in to go up by 14 only for the Jays to take a game-high 15-point lead, 65-50, less than a minute later with a Kaluma floater.
With 6:33 left, Kalbrenner picks up a fourth foul after getting tangled up with several Bears under the basket on the Jays' end. With Kalkbrenne on the bench, Farabello and Nembhard quickly hit three-pointers to push it out to an 18-point lead with less than six minutes to go.
Copyright 2023 WOWT. All rights reserved.