Committee votes for Brewer's voter ID proposal; Slama vows floor fight against 'abomination'
Secretary of State defends his office's role working with committee at Brewer's request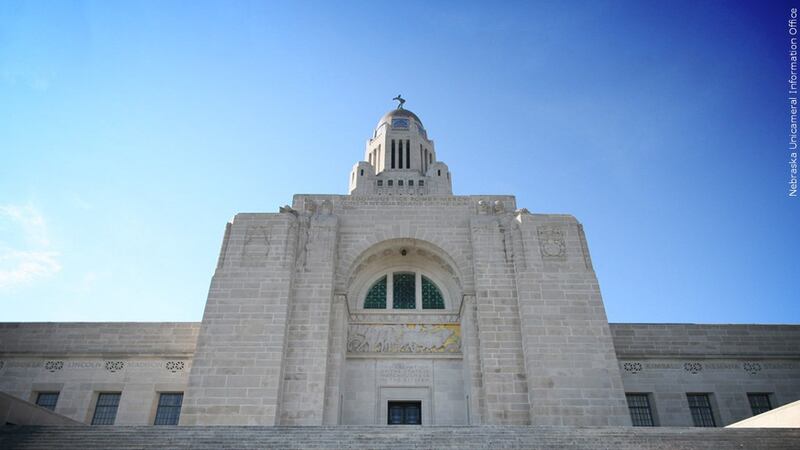 Published: May. 18, 2023 at 11:48 AM CDT
|
Updated: May. 18, 2023 at 10:29 PM CDT
LINCOLN — Last-minute tweaks to a potential compromise amendment implementing voter ID in Nebraska ran up against a deadline for scheduling floor debate that forced members of the Legislature's Government and Military Affairs Committee to take sides.
On Wednesday, they decided to back a months-long push by State Sen. Tom Brewer, the committee chairman, to "keep things simple." They chose his proposal, 6-0, over State Sen. Julie Slama's "more conservative vision for voter ID," as she described it.
Slama slammed the Brewer proposal and Nebraska Secretary of State Bob Evnen, whose office worked with Brewer to develop the amendment. She called the measure "unconstitutional" and an "abomination" because it would let people write down their own ID numbers on requests for ballots by mail.
"AM 1748 makes our elections less secure and clearly violates the language of the successful Constitutional Amendment," Slama said. "Evnen's office obstructed this process every step of the way. I'm going to fight on behalf of the voters to stop this abomination."
She said Brewer's proposal doesn't follow the language voters approved adding to the Nebraska Constitution, requiring that Nebraskans show a photo ID to vote. Slama was the campaign face of Citizens for Voter ID, the group that pushed the ballot measure.
Slama also criticized the Brewer amendment for sticking narrowly to voter ID and not adding layers of citizenship verification to the citizenship checks the state already does when a person registers to vote. The additional verification process was included in her proposal.
Evnen responds
Evnen said he has long supported efforts to require voters to show ID and said the decision on how to implement voter ID is the Legislature's to make. He said Brewer asked his office to draft an amendment that followed state and federal law, including election case law.
The committee amendment, Evnen said, allows for a digital process to send in verification of a voter's photo ID and codifies the process of checking citizenship at the time of voter registration, the current practice. He said Slama's citizenship checks risked violating federal law.
"Senator Slama's claim that the amendment adopted by the Goverment Committee permits voting without a valid ID is false," Evnen said.
"Senator Slama's bill appears to have the effect of suppressing the votes of rural voters," he said. "I have repeatedly said that I would not support a bill that suppresses voting. … I regret that Senator Slama is so upset, but in my view, her colleagues today adopted a better approach."
Brewer, who represents north-central Nebraska, told the committee that he and Slama, working with the Secretary of State's Office and the Attorney General's Office, had made real progress toward a compromise amendment. But she wanted to "expand the scope of the mission," Brewer said.
He suggested the committee focus instead on doing what voters approved adding to the Nebraska Constitution in November: A requirement to verify voters' identification. His proposal would give people options for doing so, including sending in a copy of a photo ID or writing your ID number on the ballot-request envelope.
Out of time
Speaker John Arch told Brewer he needed the bill Wednesday in order to schedule it for debate as early as this week. Brewer asked the committee to weigh three proposals: AMs 1776 and 1777 from Slama and AM 1748 from Brewer. Arch, reached late Wednesday afternoon, said he no longer expected the voter ID bill to be discussed this week.
"We could've got there if we would have had a little bit more time," Brewer said of a compromise between his approach and Slama's. "The problem is we just literally ran out of time. There's nothing left. And so today we had to make a decision, and we did, and that's the bill that will go forward as our … voter ID bill."
Brewer said the committee needed to adopt a bill that didn't have "legal concerns as far as constitutionality or not being able to have the bill implemented by the Secretary of State because of requirements put on him."
Arch had hoped to avoid a floor fight on voter ID because a continuing filibuster by State Sens. Machaela Cavanaugh and Megan Hunt, both of Omaha, has been chewing up time to discuss other bills. Based on Slama's response Wednesday, he has one coming anyway.
The committee attached Brewer's AM 1748 to Slama's initial legislation, LB 535. But Slama has said she is willing to remove her bill from consideration and force a special session on voter ID to ensure she gets a version more to her liking. She wants voters' ID verified later in the process, when they return ballots by mail. Brewer said the committee has a backup bill it can attach its amendment to if Slama does kill LB 535. Legislation to implement voter ID is needed this year in order to be ready for elections next year. 
Slama said her approach would limit the potential for fraud. Voting rights advocates, including Civic Nebraska and ACLU Nebraska, have argued that checking IDs when voters return early ballots risked having more ballots tossed out before voters have time to prove their identity to county election officials.
Cost difference
Meeting in executive session Wednesday, committee members asked about each of the proposals. Bellevue State Sen. Rita Sanders' question about the cost differences between the measures marked a key decision point for several committee members.
Brewer's version would cost about $1.8 million to implement, officials said. The most recent Slama amendment, AM 1777, would cost $23.6 million, mainly to buy machinery for local governments to produce state ID cards.

Slama questioned the fiscal estimate, saying the amendment's language leaves the option of providing the ID machines to local election offices. She said she introduced that part of her amendment at the urging of the Secretary of State's Office and "would be glad" to take it out.
Nebraska Examiner is part of States Newsroom, a network of news bureaus supported by grants and a coalition of donors as a 501c(3) public charity. Nebraska Examiner maintains editorial independence. Contact Editor Cate Folsom for questions: info@nebraskaexaminer.com. Follow Nebraska Examiner on Facebook and Twitter.
Copyright 2023 KOLN. All rights reserved.