Traffic deaths in Nebraska see stark decline in first half of 2023
NDOT says the decrease in fatalities is due to drivers being more aware
Published: Jul. 20, 2023 at 6:08 PM CDT
OMAHA, Neb. (WOWT) - Traffic fatalities in Nebraska so far this year are significantly low in comparison to a year ago.
Roadway deaths are currently down 20 percent according to the Nebraska Department of Transportation.
Bill Kovarik is the Nebraska Highway Safety Administrator. He sees more people are starting to do their part on the road.
"We're really happy to see the fatalities have gone back down again," Kovarik said.
In the Omaha metro, traffic is actually increasing despite the stark decrease in traffic deaths.
"Partly due to the increased traffic, people are more aware there are other people on the road," Kovarik said. "So, they are paying attention to their driving as well as other people."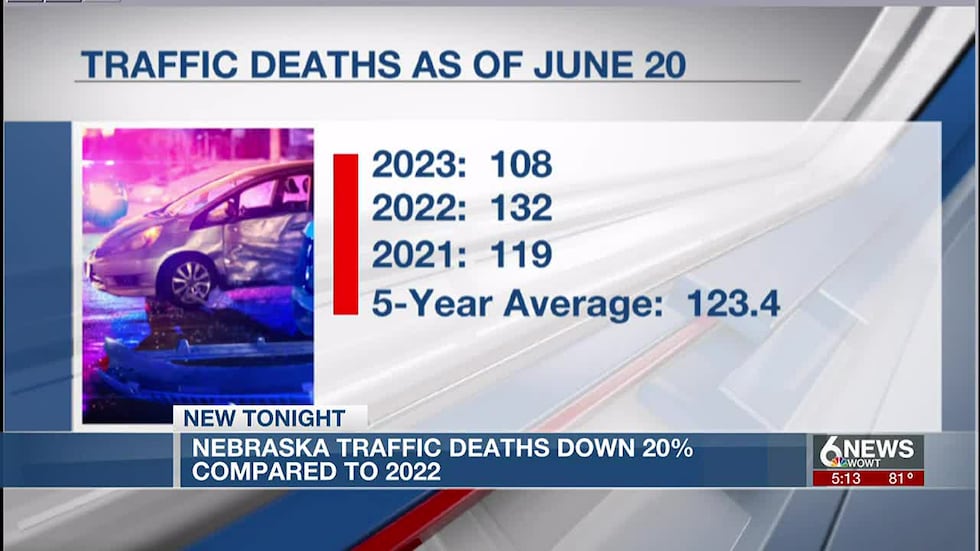 In 2023 thus far, 108 people have died in traffic in Nebraska compared to 132 at this time a year ago, and 119 for the same period in 2021.
The number this year is down 18 percent compared to the five-year average.
In the past half-decade, speeding, distracted driving, and failing to use seatbelts were seen as the main culprits for traffic deaths.
"We're certainly hopeful people are driving safer," Kovarik said.
Kovarik believes it's all a growing effort. He's been working closely with law enforcement to monitor all types of distracted driving.
But, Tom Everson with Keep Kids Alive, Drive 25 thinks more could be done.
"Well, you always want the number to go lower certainly not higher," Everson said. "Recognizing that every fatality represents a human being, a loss of a family member or friend."
Everson's organization works to make streets safer for those who walk, cycle and drive.
"So, our concern is what happens not only on roadways but around roadways, as well," Everson said.
He believes more people can play a role in creating a safe environment.
"I don't know any of us who would like to sit out in the morning and say I'd like to get in a crash today," Everson said.
Copyright 2023 WOWT. All rights reserved.