Central-Dawson Public Power merger fails after board of director's vote
Published: Jul. 28, 2023 at 11:16 AM CDT
HOLDREGE, Neb. (KSNB) - The Central Nebraska Public Power and Irrigation District board of directors voted Friday 7-5 in favor of a proposal to merge with the Dawson Public Power District. But it fell one vote short of the number required to apply to the Nebraska Power Review Board for a merger with Dawson. Eight votes were required to make the application.
Tensions were high before the meeting, and there was strong protest. One person said the board should have held the meeting in another venue to accommodate the number of people attending. Another person said, "You've declared war on my water."
UPDATE: Before public input could start two attendees of the meeting protested the meeting not being held in a space larger than the Central board room. @KSNBLocal4

— Kasey Mintz (@KaseyMintz4) July 28, 2023
The Dawson Public Power District board is scheduled to meet next week on Aug. 2. A spokesperson said the merger idea will not be on the agenda for that meeting since the Central vote did not pass.
Both districts had previously scheduled votes on the merger July 17, but the votes were postponed after the boards acknowledged concerns raised during "recent conversations."
For more than a year, the two districts have been studying the proposed merger, but the idea was controversial.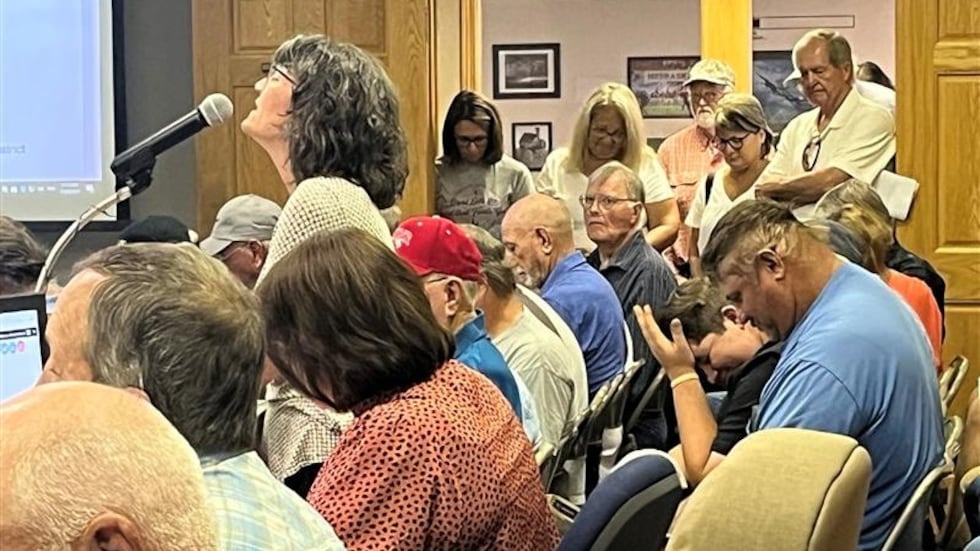 In July, a group including many of Central's irrigation customers, met in Minden to air their concerns. One of those is whether the supply of irrigation water to Central's customers will be affected.
"I'm just afraid that this merger, if it's not handled correctly, will create an environment in which one entity will not trust the other," said Brad Lundeen, opposition leader, at the July meeting. "That will take a generation to get straightened back up. And we want this outcome to be positive for everyone."
Lundeen said Central has over $100 million in reserves, and Dawson is coming into the deal with millions in debt. But one of Central's directors, Dave Nelson, said that money could dwindle in a matter of time.
"Central has a substantial cash reserve, but there are some pretty heavy bills coming up and most of those cash reserves are going to be gone," Nelson said.
Some opposed, like Gary Robinson, told Local4 News, "If it's not broken, don't fix it"
"What we'd like to see is the thing just stay, it's been good for 80 years," Robinson said. "We have local control, locally elected board members, so we'd just like to see the system stay as it is."
Should the merger go through, the plan is to base the headquarters of the newly merged power district in Lexington.
Late Thursday, the group Citizens Opposed to the Merger issued a press release in which the family of the late George Kingsley expressed opposition to the merger. Kingsley was a Minden banker after whom the Kingsley Dam was named. Built in 1941 near Ogallala, the Kingsley Dam holds back water in the North Platte River to form Lake McConaughy, from which water is sourced for irrigation in Central Nebraska.
Kingsley's great-grandson, Dr. David Kingsley, is quoted in the press release saying, "his great-grandfather would be "rolling over" in his grave about the proposed merger and would "shout don't do it!"
On Tuesday, the Phelps County Development Corporation, based in Holdrege, joined the number of groups which are concerned about the merger. In a press release, the PCDC urged "Dawson and Central leaders to listen more carefully to their customers and work collaboratively to find a workable compromise - one that provides confidence to Phelps County ag producers - to accomplish the proposed merger."
The press release also said that PCDC believes that the Central and Dawson boards are well-intentioned but, "have not listened or responded adequately to legitimate concerns expressed by farmers for whom Central was originally created." PCDC was also concerned that proposed new entity would not have water and irrigation as its primary focus.
Various other groups in Phelps and Kearney counties have also expressed concern about the merger.
Copyright 2023 KSNB. All rights reserved.