Google announces plans to develop data center in Lincoln, its third in Nebraska
Mayor Leirion Gaylor Baird said the data center will be built along I-80 in northeast Lincoln
Published: Aug. 22, 2023 at 2:42 PM CDT
|
Updated: Aug. 22, 2023 at 5:47 PM CDT
LINCOLN, Neb. (KOLN) - Google announced its plans to develop a data center in Lincoln, its third in Nebraska since 2019.
The announcement was made with U.S. Senator Deb Fischer, Rep. Mike Flood, along with city officials from Lincoln, Omaha and Papillion during a news conference at Google's Papillion data center campus on Tuesday.
The new data center in Lincoln will help power popular digital services — like Google Cloud, Workspace (which includes Gmail, Docs, Sheets and more), Search and Maps — for people and organizations worldwide. It is part of the company's plan to invest $1.2 billion this year in Nebraska. The announcement builds on Google's $2.2 billion invested in Nebraska to date.
The company did not confirm the exact location of the Lincoln data center, but Mayor Leirion Gaylor Baird said the new data center will be built "alongside Interstate 80 in northeast Lincoln" during the news conference. In 2019, a Shell company purchased a large plot of land north of Interstate 80 and west of 56th Street for a data center, the same area that Gaylor Baird mentioned. An active construction site could be seen in the area.
The timeline on when construction will be complete is unclear, but it took approximately two years for Google's data center in Papillion to be built.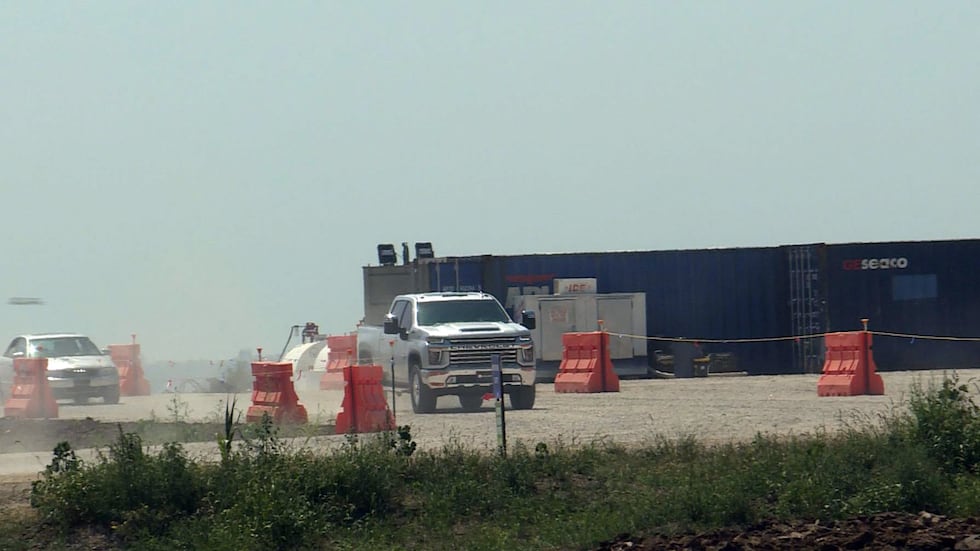 "Google's decision to locate in Lincoln is a result of the strong business climate we have built through community partnerships and investments in infrastructure and workforce development," said Lincoln Mayor Leirion Gaylor Baird. "I look forward to welcoming them to our community and continuing a strong partnership as we bring more innovation and economic growth to Lincoln."
The data center has already gathered support from other City officials and organizations. "This is an incredible day for Lincoln," Jason Ball, president and CEO of the Lincoln Chamber of Commerce and the Lincoln Partnership for Economic Development said. "The addition of Google's data center to our business landscape marks a significant milestone in our ongoing efforts to foster economic growth and transformative development within our community."
The data center that will be built in Lincoln follows its soon-to-be-operational site in northwest Omaha and their existing campus in Papillion.
According to Google, its ongoing commitment to the Omaha-Council Bluffs, and now Lincoln, metropolitan area, will play a significant role in Google's United States data center portfolio as one of the fastest-growing regional hubs. Recently, the company announced a $350 million investment in its existing Council Bluffs data center campus.
"Nebraska is blessed with a tremendous workforce, a strong university system, and abundant natural resources that make us a clear hub for innovation," Fischer said. "Today's significant investment will grow our economy, create jobs, and build on the success of our local communities' thriving tech sector. In the Senate, I'll continue advancing policies that will expand broadband access and bring new economic opportunities to Nebraska."
In 2019, Google broke ground on a data center in Papillion and has since created more than 120 jobs for Nebraskans in a variety of full time and external supplier roles, including computer technicians, engineers and various food service, maintenance and security roles. The exact number of jobs as a result of the data center coming to Lincoln is unclear.
More recently, Google provided $4.34 billion of economic activity for thousands of Nebraska businesses, including publishers, nonprofits, creatives and developers in 2022.
According to the company, more than 112,000 Nebraska businesses used Google's free tools to receive phone calls, bookings, reviews, requests for directions and other customer interactions.
"We are at an important moment for tech innovation, with the growing demand for AI and Google Cloud, along with our other digital products and services like Search and Maps," Allie Hopkins, Google Head of Data Centers, Iowa and Nebraska said. "We have a long history with the greater Omaha metro community and we're proud to continue growing this critical regional hub with today's new investment in Nebraska."
Copyright 2023 KOLN. All rights reserved.