County emergency managers talk about need for alert systems following 911 outage
Published: Sep. 1, 2023 at 2:41 PM CDT
|
Updated: Sep. 1, 2023 at 3:19 PM CDT
GRAND ISLAND, Neb. (KSNB) - Service has been restored following a major outage that affected multiple 911 centers across Nebraska overnight.
The Public Service Commission said Lumen, a provider of 911 telephone services, reported an outage Thursday caused by a fiber cut to its network in the Omaha area. The impact of it could be felt beyond Omaha with 911 centers in Grand Island, Kearney and North Platte among many counties not receiving emergency calls.
Hall County Emergency Manager Jon Rosenlund said it was his dispatchers who noticed Thursday night that they were not receiving the level of calls they normally do so they started to test system, realizing that people were likely not getting through.
From that moment, the team started to investigate the problem to see if it was something wrong with their local system, but with time, they started learn that it was impacting numerous 911 centers.
"Really from one end of the state to the other," said Rosenlund.
He said at that moment they realized it was something likely out of their control and so then they started enacting procedures to make sure they could let the public know what the best way is to contact emergency services.
Rosenlund said Hall County is able to use the IPAWS system to help send out an alert to notify the public about what's going on and what people need to do if they have to reach out for 911 services.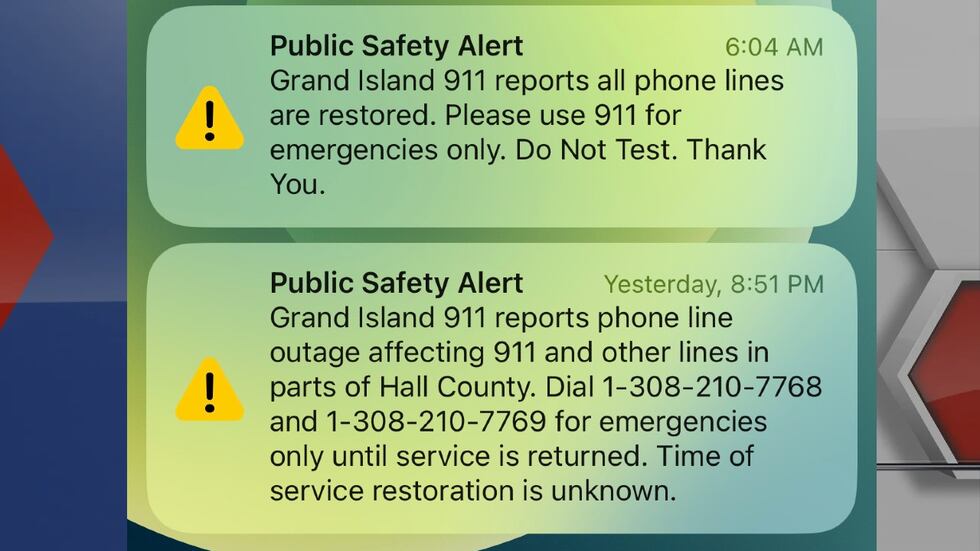 "The Wireless Emergency Alert is one of the most powerful warning and information systems that I've ever seen in my career," Rosenlund said.
He said they are able to push out the notification to get it to the most people as possible.
"It can be kind of annoying but I can't think of a tool of warning and informing the public that has been so universally effective because it's so effective at reaching a large segment of our population," Rosenlund said. "We've never had something like that before and we're really very fortunate that we have that in Grand Island and are able to use that to notify residents."
He said the system has been used not only for the incident overnight but also when there's a missing person or for example, the baby involved in the kidnapping case earlier this year.
While the Hastings 911 system was not impacted by the outage seen by others statewide, Adams County Emergency Manager Ron Pughes said if it had, they have processes in place to make sure things continue to run smoothly.
He added they also would have utilized the IPAWS network to alert the public.
"It's imperative that the word gets out as quick as possible so when someone dials 911, we want them to get a response," Pughes said.
He said one thing that may have caused confusion for people in Adams County was some surrounding counties were dealing with the outage and alert bleedover.
Some phones within Adams County received messages that were intended to be from other counties and the alert was not clearly defined.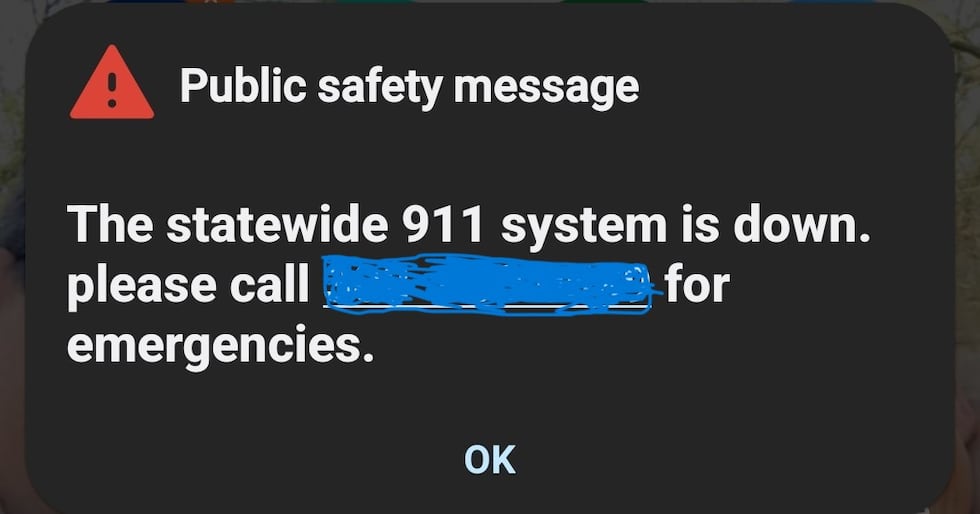 Pughes said they have criteria and guidelines in place to make sure they eliminate any generalities.
He said those include adding the location of the incident, what the hazard might be and what action people should take.
"We were fortunate that it didn't go out," he said.
Service was restored around 5:30 a.m. Friday as Lumen works to determine the cause of the fiber cut.
"We want to thank the 911 centers affected by the outage, for their quick work in getting the word out on the outage and for utilizing alternative means for the public to contact emergency services," said Director David Sankey, PSC State 911 Department.
The Public Service Commission determined that 39 of the 68 911 centers across the state were affected by the outage in various ways. Lincoln Police said its 911 system was not affected.
Copyright 2023 KSNB. All rights reserved.