UNK ranked No. 2 in Value, No. 29 in Midwest by US News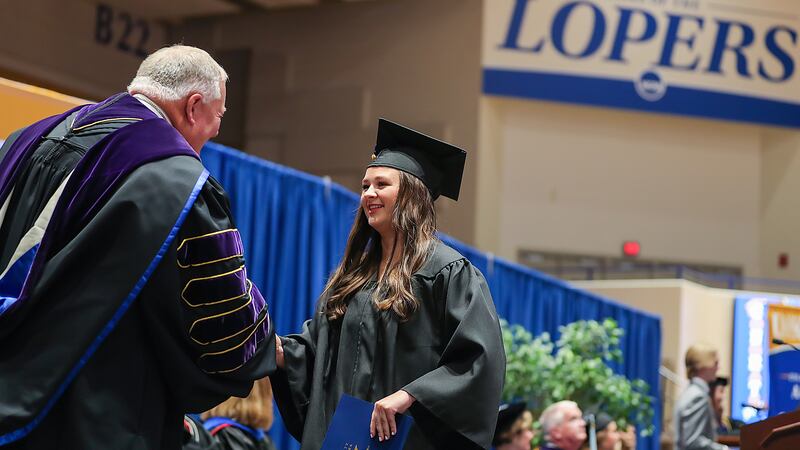 Published: Sep. 20, 2023 at 5:13 PM CDT
|
Updated: Sep. 20, 2023 at 10:23 PM CDT
KEARNEY, Neb. (Press Release) - The University of Nebraska at Kearney remains a top option for students who want a high-quality education at a lower cost.
UNK received recognition for its academic excellence, strong student success rates, affordable tuition and accessible financial assistance programs in the latest "Best Colleges" rankings from U.S. News & World Report.
For the 16th consecutive year, UNK is among the best public regional universities in the Midwest, ranking No. 8 on that list. No other school in Nebraska or the Mid-America Intercollegiate Athletics Association received a higher ranking. It's the ninth time UNK has been inside the top 10, including a No. 6 ranking in 2021 and 2020.
UNK is tied for 29th among all Midwest regional universities – both public and private – up eight spots from last year and ahead of schools such as Nebraska Wesleyan University, College of Saint Mary, Concordia University, Doane University, Wayne State College, Chadron State College, Midland University, Bellevue University and Peru State College.
"We are incredibly proud to once again be recognized as a leading institution in the Midwest. Our consistent top rankings underscore the value and opportunities UNK offers, as we continually adapt to meet the needs and aspirations of our students," said Kelly Bartling, UNK's vice chancellor for enrollment management and marketing.
Released today, the U.S. News & World Report rankings evaluate 1,500 colleges and universities on up to 19 measures of academic quality, giving prospective students and their families useful data and information to help with one of life's biggest decisions. This year's rankings placed a greater emphasis on outcomes for graduating students, including their college debt and ability to find a good-paying job.
"The significant changes in this year's methodology are part of the ongoing evolution to make sure our rankings capture what is most important for students as they compare colleges and select the school that is right for them," said Eric Gertler, executive chairman and CEO of U.S. News.
UNK maintained its high ranking on U.S. News & World Report's list of "Best Value Schools," coming in at No. 2 among Midwest regional universities, trailing only Dominican University in Illinois. That ranking looks at academic quality, cost of attendance and the percentage of full-time undergraduate students receiving need-based financial aid and scholarships.
UNK is the most affordable Nebraska university, with an annual cost of $19,835 for a full-time undergraduate student taking 15 credit hours per semester and living in a double room on campus with a Loper meal plan. More than 85% of all full-time freshmen received scholarships and/or grants in 2021-22, with the average need-based award totaling $10,132.
Qualifying Nebraska students with family incomes of $65,000 or less can attend UNK tuition-free through the Nebraska Promise program, and the New Nebraskan Scholarship allows all out-of-state students to pay the in-state tuition rate for traditional, on-campus classes.
UNK moved up 20 spots on the U.S. News rankings for social mobility, tying for 31st among Midwest regional universities. Those rankings recognize schools that support students who receive federal Pell Grants and help them complete a degree. UNK also improved one position on the "Best Colleges for Veterans" list, ranking 14th among Midwest regional universities.
Copyright 2023 KSNB. All rights reserved.