Tri-City Storm assistant coach hired by USA Hockey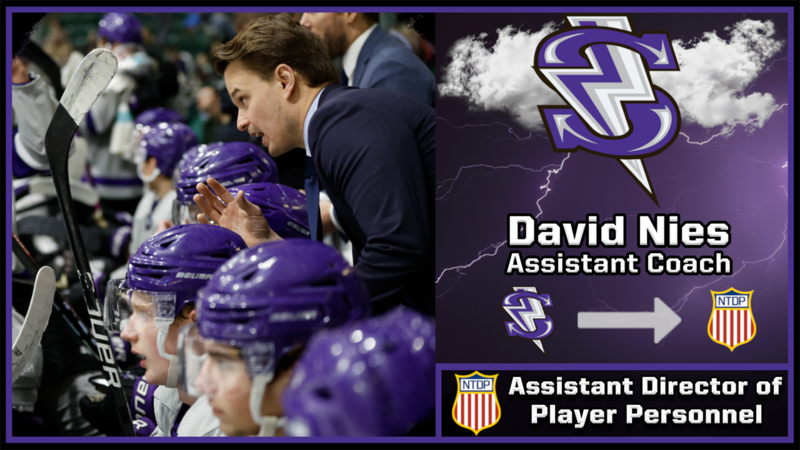 Published: Sep. 27, 2023 at 12:03 PM CDT
KEARNEY, Neb. (KSNB) - Tri-City Storm Assistant Coach David Nies has been hired by USA Hockey to be the organization's new Assistant Director of Player Personnel for the United States National Team Development Program. Nies has served as an Assistant Coach for the Storm since the 2021-2022 season.
David Nies, 35, of Brookline, Massachusetts, was behind the bench during the Storm's 2021-2022 Anderson Cup Championship season. He helped guide Tri-City to Clark Cup Playoff appearances during each of his two seasons with the organization. Nies coached multiple NHL Draft Picks, and many future Division I collegiate players during his time with the Storm. Tri-City compiled an overall record of 83-31-7-5 during Nies' time with the organization, including last week's results at the 2023 DICK'S Sporting Goods USHL Fall Classic. In his new role as the Assistant Director of Player Personnel with the United States National Team Development Program, Nies will manage and develop scouting lists, gather player information, and present player evaluations, among other duties.
"I would like to thank the Tri-City Storm for an amazing few years. The people are what made my time in Kearney special. From the staff to our fans, it has always felt like home. I appreciate the opportunity that Anthony Noreen and Jason Koehler provided me, and the players for giving me the energy to come to the rink every day," David Nies said.
He was hired by the Storm on August 6th, 2021, following three seasons behind the bench as an Assistant Coach with the Omaha Lancers (USHL). Prior to joining the Lancers organization in August of 2018, Nies served as an Assistant Coach for the Amarillo Bulls (NAHL) during the 2017-2018 season. He played four seasons of college hockey at the University of Southern Maine (NCAA DIII) from 2009-2013. Nies served as a Volunteer Assistant Coach for Southern Maine during the 2013-2014 season and had coaching stints with Ohio University (ACHA), Curry College (NCAA DIII), and Merrimack College (NCAA DI) following his time with Southern Maine.
"I am thankful and appreciate David Nies for all he did in Tri-City the last few years. David is above all a great person, who brought positive energy to the arena every day, and worked extremely hard. He will be missed by our staff and players, but we want to congratulate him on his opportunity and wish him the best," President of Hockey Operations/Head Coach Anthony Noreen said.
"David did a tremendous job with our club the last two seasons. His energy, passion, and dedication to our organization will certainly be missed. We appreciate his time and service in Kearney, and we wish him all the best in his new role with the United States National Team Development Program," General Manager Jason Koehler said.
"Coach Nies has helped me a bunch throughout my two years in Tri-City. Whether it's about hockey or not, he was always there to guide me. I'm definitely going to miss his jokes, and I cannot say thank you enough to him of the impact he left on everyone in the organization," Defenseman Shaun McEwen said.
"Coach Nies made coming to the rink fun every day, he was always there as somebody to talk to off the ice, and on the ice. He was an incredible coach, and he helped me develop a ton throughout the past couple of years. I'm going to miss him a lot," Defenseman Charlie Kinsman said.
"Coach Nies played a huge part in helping me transition into the league and become the player I am today. I can't thank him enough for all that he has done. He is a guy who brings energy every single day, and you are just excited to see him at the rink every day," Defenseman Seth Constance said.
Copyright 2023 KSNB. All rights reserved.