Puppy rescued after Walmart workers find him abandoned in sealed plastic box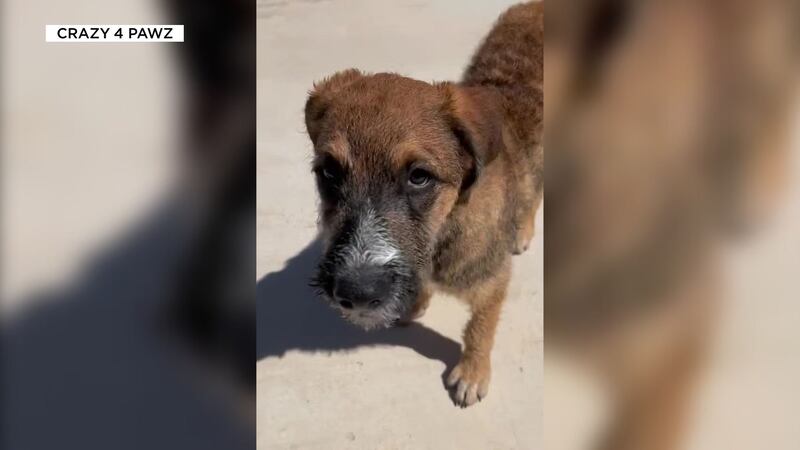 Published: Sep. 28, 2023 at 1:57 PM CDT
LAS VEGAS (KVVU/Gray News) - A puppy is recovering after being found trapped inside a plastic box at a Las Vegas-area Walmart last week.
KVVU reports that Walmart workers found the dog abandoned in a shopping cart in the store's parking lot on Sept. 20.
One of the workers at the store, Shamar Shapiro, said he was about to leave work for the night when suddenly he saw a crowd of people outside.
"I was looking outside and went to check on all the commotion going on," Shapiro said.
Once he walked over, he said he saw a black plastic box with a closed yellow lid that had a puppy inside.
According to Shapiro, the pup could be seen trying to poke his nose out of the box.
He immediately got the pup out and started comforting it.
"He was a nice, sweet young puppy," Shapiro said.
The pup is estimated to be around 3 months old and weighs about 12 pounds.
Shapiro's family has taken in all kinds of animals in the past so the worker said he knew they could help that night.
"I realized, 'Yeah, this is what I do, I rescue animals,'" Shapiro said. "I called my mom, and she helped take the dog to the vet."
The family then called a nonprofit animal rescue called Crazy 4 Pawz.
The rescue took the pup in and named him Sammy. The dog got his shots along with a microchip and was placed with a foster family.
Sammy is currently on a 30-day stray hold before he will be up for adoption and looking for his forever home.
Police said they are looking into the situation to find who was responsible for leaving the puppy behind.
Copyright 2023 KVVU via Gray Media Group, Inc. All rights reserved.