Nebraska tops Omaha, 8-4, in first fall exhibition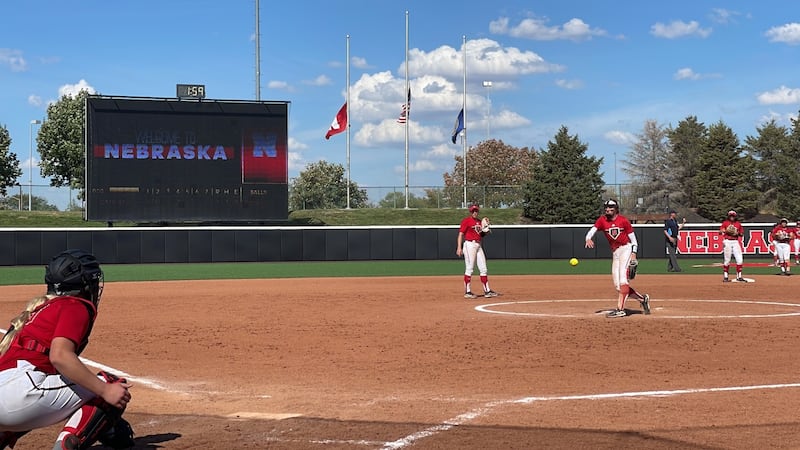 Published: Oct. 1, 2023 at 4:03 PM CDT
LINCOLN, Neb. (Nebraska Athletics) - A four-run fourth inning powered the Nebraska softball team to an 8-4 victory over Omaha Sunday afternoon at Bowlin Stadium in the first of eight exhibition games this fall for the Huskers.
Nebraska out-hit Omaha, 12-7. Five Huskers had multiple hits, three scored multiple runs and two drove in multiple runs. The first three batters in the NU order - Jordy Bahl, Katelyn Caneda and Ava Bredwell - had two hits apiece and combined to go 6-for-9 with three runs and six RBIs. Bredwell went 2-for-2 with a two-run homer, Caneda was 2-for-3 with three RBIs and Bahl finished 2-for-4 with an RBI double and two runs scored. Alina Felix and Dakota Carter also had two hits for the Big Red, with Carter scoring twice.
In the circle, Bahl earned the win. In 5.0 innings, she allowed four runs (two earned) on four hits and struck out four. The leadoff batter reached in each of Bahl's five innings, but she limited UNO to just 1-for-18 hitting with runners on base. Emmerson Cope pitched the final 2.0 innings and did not allow a run while working around three hits.
Kamryn Meyer took the loss for UNO, allowing six runs (two earned) on eight hits in 3.2 innings.
Nebraska threatened early with a pair of runners in scoring position in the bottom of the first inning. Bahl reached on an error and stole second before Bredwell drew a one-out walk. A passed ball advanced the runners to second and third but a strikeout and a flyout ended the threat.
In the bottom of the second, Nebraska got singles from Felix and Carter but could not produce a run.
The Huskers then broke through in the third. Bahl led off the inning with an infield single and advanced to second on a sacrifice bunt from Caneda. Bredwell then blasted a 1-2 pitch off the scoreboard in left for a two-run homer that put Nebraska on top 2-0.
Omaha answered in the top of the fourth with the help of two free passes. A leadoff walk and a hit batter put Mavericks on first and second. A ground ball moved the tying runs into scoring position with only one out and UNO plated its first run on an RBI ground out from Ava Rongisch. Olivia Aden then lined a two-out RBI double down the third-base line to tie the game at 2-2.
Nebraska came right back to score four runs in the bottom of the frame. Bella Bacon singled off the top of the wall in center and Felix followed with her second hit of the day. Samantha Bland then put down a sacrifice bunt and was safe on an error, loading the bases with no outs. After UNO got two straight force outs at home, Caneda came through with a clutch single up the middle that scored pinch runner Caitlynn Neal and Felix. On the play, a throwing error allowed Bahl to score to put the Huskers in front 5-2. Caneda then scored on a wild pitch, pushing the lead to 6-2.
The Huskers threatened to add more when Bredwell singled and Cope and Gray walked to load the bases again, but a hard ground out prevented further damage.
Omaha did not go away, as the Mavericks took advantage of a pair of Husker errors to score twice in the top of the fifth and trim Nebraska's lead to 6-4.
Nebraska responded with two runs in the bottom of the fifth. Bland and Carter produced back-to-back one-out singles in front of Bahl, who ripped an RBI double to left center. Caneda then scored Carter with an RBI single that made it an 8-4 Husker advantage.
Nebraska travels to Kansas City next Saturday for a pair of games before returning home on Sunday to host Creighton at 2 p.m. at Bowlin Stadium (free admission).
Copyright 2023 KOLN. All rights reserved.