A cool down will bring storms, Tuesday
Published: Oct. 2, 2023 at 8:10 PM CDT
HASTINGS, Neb. (KSNB) - Our 90 degree weather looks to be extinct for the foreseeable future as a strong upper level trough and attendant cold front changes the complexion of our weather to match the season. Tonight the main storm threat will be over the Panhandle and Western Nebraska. If storms turn severe they will likely be west of Hwy 83 line that runs through North Platte. Skies will become partly cloudy in the Tri-Cities with a slight chance for isolated thunderstorms overnight and again into the mid morning to forenoon hours of Tuesday.
As the front approaches along with upper level energy, storms will develop roughly after 2 pm and be at their strongest through roughly 6 pm, if the timing of the front plays out as forecast. It is during the initial phase of development when supercell thunderstorms will likely be their most potent, and be capable of producing damaging winds, large hail with a small risk of isolated tornadoes.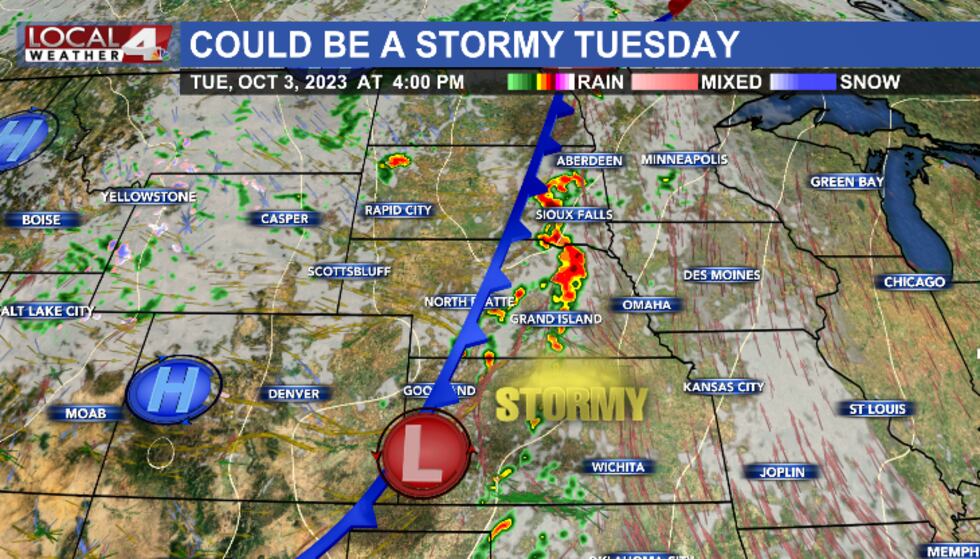 Most of the Local 4 area will be in a 2 in 5 chance of seeing severe weather. As individual storms track north the the entire line will drift east and by 9 pm should largely be to the east of our forecast area.
Highs on Tuesday will be in the 60s, 70s and lower 80s.
Late in the week as couple of disturbances will pull in a reinforced shot of cool air, ushering in the coldest temperatures of this young season so far. Friday night into Saturday morning will likely bring widespread frost, as temperatures drop to near 30 west of Kearney, with low to mid 30 to the east.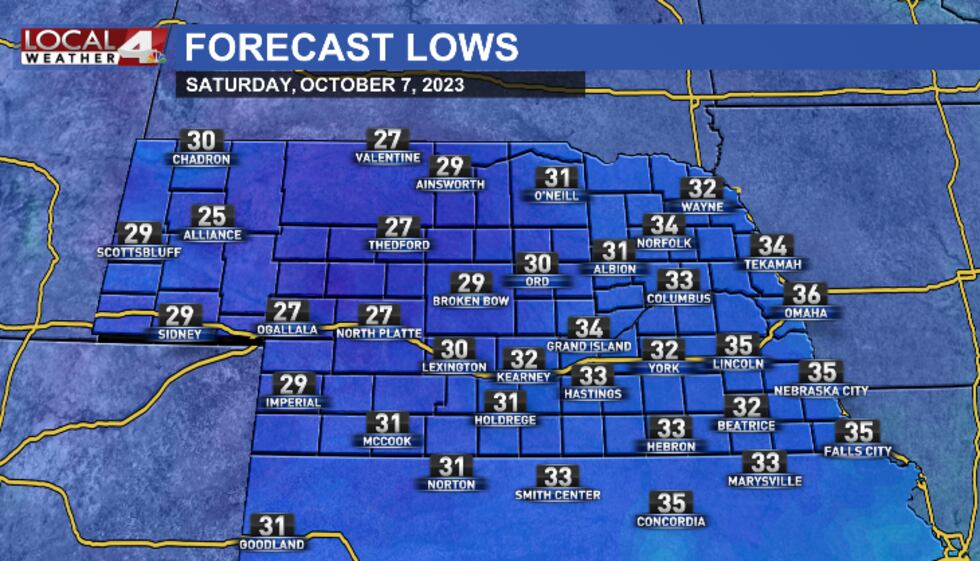 Afternoon highs on Saturday will level off in the mid 50s, then warm back into the mid to upper 70s by Monday of next week.
Copyright 2023 KSNB. All rights reserved.