'I just can't wait to live here': UNK students get sneak peek at new sorority housing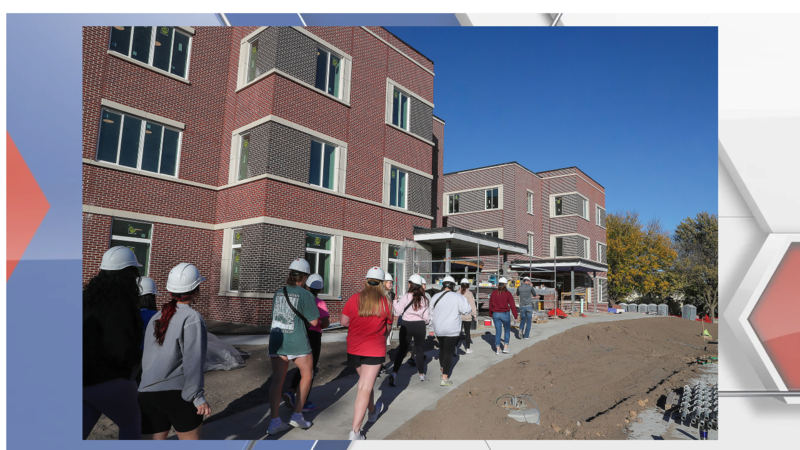 Published: Oct. 20, 2023 at 7:54 PM CDT
KEARNEY, Neb. (KSNB) - The spacious laundry rooms and abundance of natural light definitely stood out as Katie Lytle toured the new sorority housing on the University of Nebraska at Kearney campus.
She loves those features, but it was another amenity that really caught her eye.
"The kitchen is what I'm most excited about," she said with a smile.
Lytle and other members of the Alpha Phi sorority currently live in University Residence South, where they use an outdated kitchen that isn't ideal for cooking.
"We never make anything," the 7-12 chemistry education major said. "As a junior now, that's basically the only thing I miss about living at home."
The Omaha native is already planning to bake cookies for her sorority sisters when they move across campus in January.
"I just can't wait to live here," Lytle said during Thursday's sneak peek inside the 41,000-square-foot building.
Located just east of the Nebraskan Student Union and directly north of the new fraternity housing that opened earlier this year, the residence hall dedicated to UNK sororities has plenty of people excited. During their tour, representatives from the various organizations took a ton of photos and videos to share on social media.
"I think it looks great," said senior Yamilett Ramirez, vice president of the Sigma Lambda Gamma sorority and president of the Multicultural Greek Council. "It will be really nice to have this space for MGC now."
Similar to Martin Hall, which was transformed into a modern living space for UNK fraternity members, the roughly 125-bed residence hall currently under construction includes dedicated housing pods, chapter rooms, lounges and study areas for each Panhellenic sorority – Alpha Omicron Pi, Alpha Phi, Alpha Xi Delta and Gamma Phi Beta – along with an outdoor patio and plenty of green space. There are flexible housing units designed to meet the chapters' future needs, as well.
In addition to the Panhellenic sororities, the new building will serve UNK's multicultural chapters – the Sigma Lambda Gamma and Lambda Theta Nu sororities and Sigma Lambda Beta fraternity. They'll have their own chapter rooms and a shared lounge, giving them a permanent on-campus home for the first time.
Because of national rules, these groups don't have designated housing on campus. However, multicultural fraternity members can live in the flexible housing units in Martin Hall and sorority members have the same opportunity at the new residence hall.
"Having specific space for our multicultural chapters really elevates those organizations," said Karlee Nuttelman, assistant director for UNK Fraternity and Sorority Life (FSL). "We want to provide equitable opportunities for all of our students and make sure they feel like they're part of this community."
Ramirez, a communication disorders major from Omaha, believes this setup will benefit everyone.
"This gives us the opportunity to be more close-knit," she said. "We will be closer to the Interfraternity Council and Panhellenic, so we'll be able to make connections and interact with each other on a deeper level. MGC is way different than IFC and Panhellenic, so I feel like this will give them a chance to learn more about us and we can learn more about them."
Lytle agrees.
She serves as executive vice president for the Panhellenic Council, so she's had opportunities to form close relationships with students from other chapters. But that's not always the case for all FSL members. At University Residence North (URN) and University Residence South (URS), the layout creates a level of division between the chapters.
"I think the new space will be really beneficial because we can create that greater community," Lytle said. "There's enough distance between each of the chapters to still feel like we're in our own separate house, but we're all still together in one building, which is really nice."
The new fraternity and sorority residence halls face each other, with a green space in between serving as an extension of the student union plaza. This location brings FSL members closer to other students living on campus and gives them easier access to support staff, resources and dining options inside the union.
Located on the west side of campus, URN and URS were built in the early 1990s as a temporary and quick solution to issues within the Greek community, which was moved onto campus to provide a safe, education-centered environment for members. The wood-frame buildings were only designed to last 20 years. Three decades later, they have the highest annual maintenance and operating costs among UNK's residence halls and continue to experience mechanical infrastructure issues. It would cost an estimated $37 million to make the repairs and improvements needed to keep them in use.
Both buildings will be razed after the new housing complex is complete.
Funding for the $32.65 million replacement project – which includes the Martin Hall renovation and sorority residence hall – comes from facilities reserves, housing revenue and an internal lending program. By eliminating Louie's Diner, a food court in URS, the university expects to save $250,000 to $350,000 in yearly food services expenses. Additional savings will be realized by sharing residence hall staff with nearby campus housing.
A name for the sorority residence hall will be announced prior to its opening in January.
Lytle and Nuttelman both view the housing project as a significant recruiting tool that will help bolster FSL membership, which currently includes about 500 students across the 12 chapters.
"Having all these nice, new things will be super beneficial to getting more people to join the community," Lytle said.
Noting FSL members' campus involvement, leadership roles, high GPAs, strong graduation rates and overall impact, Nuttelman called the project an investment in the university's future.
"It goes beyond just the living part," she said. "I'm excited because of the potential that it brings."
"I would have loved to live here," the former Gamma Phi Beta member added. "If I could go back and do it again, I would."
Copyright 2023 KSNB. All rights reserved.