Museum of Nebraska Art celebrates Native American Heritage Month with Oglala Lakota storyteller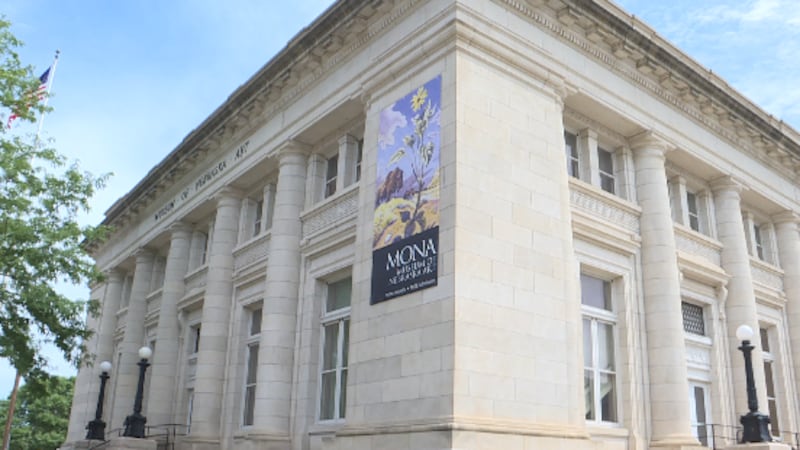 Published: Oct. 23, 2023 at 4:49 PM CDT
KEARNEY, Neb. (Press Release) - The Museum of Nebraska Art celebrates Native American Heritage Month with Oglala Lakota storyteller Jerome Kills Small. Mr. Kills Small tells children's stories and animal stories that have been passed down for generations as part of the Lakota and Dakota Sioux traditions. Among the types of stories covered are iktomi (trickster tales) and ohunkanka (old legends).
Jerome Kills Small is an Oglala Lakota from Porcupine, South Dakota, on the Pine Ridge Reservation. A 1997 graduate of the University of South Dakota with an M.A. in Selected Studies, he retired after 20 years at USD. He taught Lakota Language, American Indian Thought, Siouan Tribal Culture, Early Native American History. He is featured in the book Wounded Warriors: A Time for Healing and has a story in the Silver Anniversary Anthology published by the South Dakota Humanities Council. Mr. Kills Small has parts in the videos: Sucker Punched, Nagi Kicopi (Calling Back the Spirit,) Lost Landscapes, and Bones of Contention: Repatriation and Reburial (BBC.) A storyteller for public schools, museums, and colleges, he translates, explains, and sings Lakota ceremonial, sweatlodge, powwow, rabbit, round dance, warrior, vision quest, and sundance songs. He sings with the Iron Wing Singers of Wagner, SD. He is a powwow organizer, announcer, and arena director, and he helps in conducting Lakota ceremonies. He portrayed Tecumseh, a Shawnee Chief and British General. He also portrayed Dr. Charles Alexander Eastman, the first Dakota Medical Doctor. Mr. Kills Small is on the Board of Directors for the Native American Advocacy Program.
Humanities Nebraska (HN) provides major funding for this program. HN receives support from the National Endowment for the Humanities, the Nebraska State Legislature, the Nebraska Cultural Endowment, and private donations. "Children Stories, Animal Stories and Traditional Lakota Stories" is one of approximately 300 programs offered through the Humanities Nebraska Speakers Bureau. The more than 165 available speakers include acclaimed scholars, writers, musicians, storytellers, and folklorists on topics ranging from pioneer heritage to ethics and law to international and multicultural issues, making it the largest humanities speakers bureau in the nation.
Copyright 2023 KSNB. All rights reserved.