Nebraska Softball signs four talented players
Published: Nov. 8, 2023 at 3:45 PM CST
|
Updated: Nov. 8, 2023 at 3:46 PM CST
LINCOLN, Neb. (Press Release) - The Nebraska softball team signed four players to National Letters of Intent on Wednesday. The group includes two in-state players and two players from California.
Nebraska Softball Signing Class
Natalia Hill (Norwalk, Calif.)
Nessa McMillen (Blair, Neb.)
Macie Vickers (Escalon, Calif.)
Kennadi Williams (Lincoln, Neb.)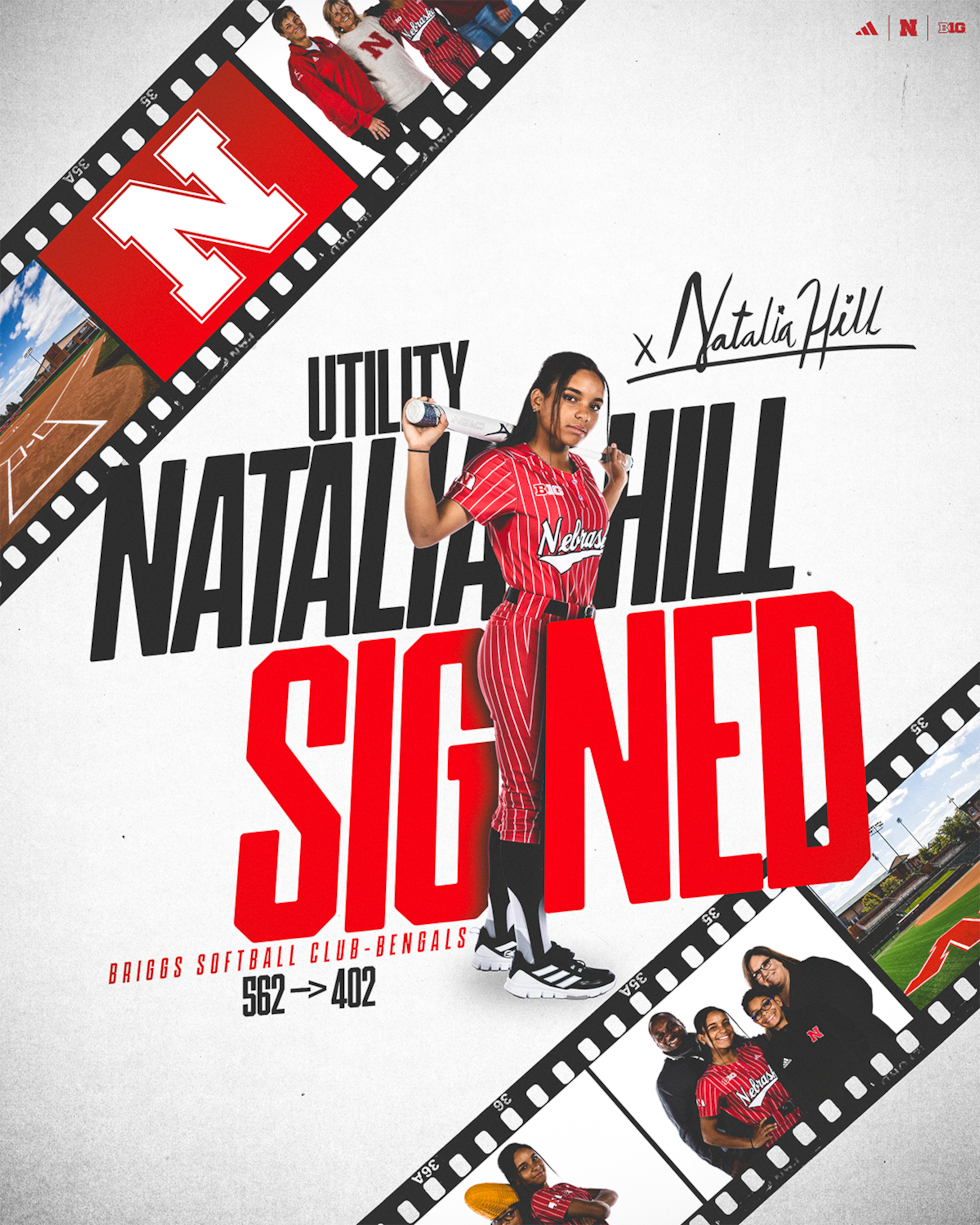 Natalia Hill, Utility, Norwalk, Calif. (Gahr HS/Briggs Softball Club – Bengals)
Natalia Hill was one of the nation's top recruits while starring for Gahr High School and the Briggs Softball Club in California. Hill was ranked among the top 50 overall recruits in the country and was invited to play in the Minority Prospects All-American Game.
Hill has been a starter every season for Gahr High School in Cerritos, Calif., with her senior season still to come this spring. As a sophomore, she was named the team's defensive player of the year and was a first-team all-league selection. She repeated as a first-team all-league player as a junior and was also Gahr's Most Valuable Player. She earned recognition at the state level with an appointment to the Cal-Hi Sports All-State Underclass team as a junior, when she was also an all-area selection and a member of the All-CIF Southern Section Division I team.
Hill has excelled in the classroom as an honor roll member since the 7th grade and as a four-year Scholar Athlete of the Quarter recipient.
Hill has also enjoyed success for the Briggs Softball Club – Bengals. She helped her team to a title at the 2023 PGF Shootout championship, hitting a home run in the semifinal game. Hill was invited to play in the All-Star Jennie Finch Classic in 2023, when she helped her team to a tournament title. She also participated for Team Spain at the 2023 International Challenge, where she earned a spot on the All World team.
Coach Revelle on Natalia: "Nat has an incredible softball IQ that impressed us the first time we spoke with her. On the field, Nat is dynamic with her leadership, voice and level of play. An intense competitor, Nat has a contagious energy and a winning attitude, and we could not be more grateful that Nat is a Husker."
Hill on Nebraska: "During my recruitment process I was looking for a school that felt like a second home. As soon as I stepped onto the Nebraska campus, I felt that. Considering that I will be moving far away from California, having support like I get from Nebraska is a big thing I am grateful for. Seeing how well the athletes are treated, how welcoming the people were, how competitive and positive the softball team is, and being high on academics made it a no doubter. On top of that being able to play for one of the most experienced and knowledgeable coaching staffs in the country is truly a blessing."
Nessa McMillen, Utility, Blair, Neb. (Blair HS/Aces)
Nessa McMillen was a four-year starter for Blair High School. She was a four-time all-conference selection who hit above .400 in each of her four seasons. McMillen was also an all-state selection each of her first three seasons with all-state honors still to be announced for her senior year.
As a freshman, she was Blair's offensive MVP while earning honorable-mention all-state accolades. She hit .419 with 39 hits, 12 doubles, three triples, three home runs, 30 RBIs and eight stolen bases, leading the team in each category. In her sophomore season, McMillen was Blair' offensive and defensive MVP and a second-team all-state selection. She tied the Nebraska all-class record with three home runs against Norris while leading Blair with a .469 average, 45 hits, 15 doubles, five home runs and 38 RBIs.
In her junior season, McMillen was a first-team all-state pick who helped Blair to a third-place finish at the state tournament. She led the team with a .451 average, 41 hits, 14 doubles, four triples, 40 runs and 28 RBIs. As a senior, McMillen led Blair to a runner-up finish, when McMillen had three hits and scored three runs in the state championship game. She broke the school record by scoring 63 runs and producing 59 RBIs while batting .538 with 57 hits, including 14 doubles, three triples and 13 home runs.
McMillen plays her club ball for the Kansas City Aces. She helped the Aces to a runner-up national finish at the 2023 Alliance Fastpitch Championship Series.
Coach Revelle on Nessa: "Nessa is another homegrown Husker who is very athletic and can impact the game with her speed or with her power. Nessa's versatility will be so valuable to our team, as she can play many positions at a high level. We are absolutely thrilled that Nessa has chosen to stay home and wear red."
McMillen on Nebraska: "I chose Nebraska because it made me feel the most welcomed and at home. The softball girls are truly amazing people, and I could see myself fitting in. The coaches made me feel like I was very valued from the first phone call. They care about me as a person even more than a player. On top of that, Nebraska athletes get the best of the best. They are given so many resources that other schools cannot provide. Women's sports are also on the uprise in Nebraska. The engineering program was by far the best, and I knew they would ensure that I succeed after my time at Nebraska. Nebraska fans are amazing and continue to support game after game. Lastly, it's close enough to home where I can still see my family a lot. Being able to represent my home state is something I've been so grateful for. I can't wait to officially become a Husker."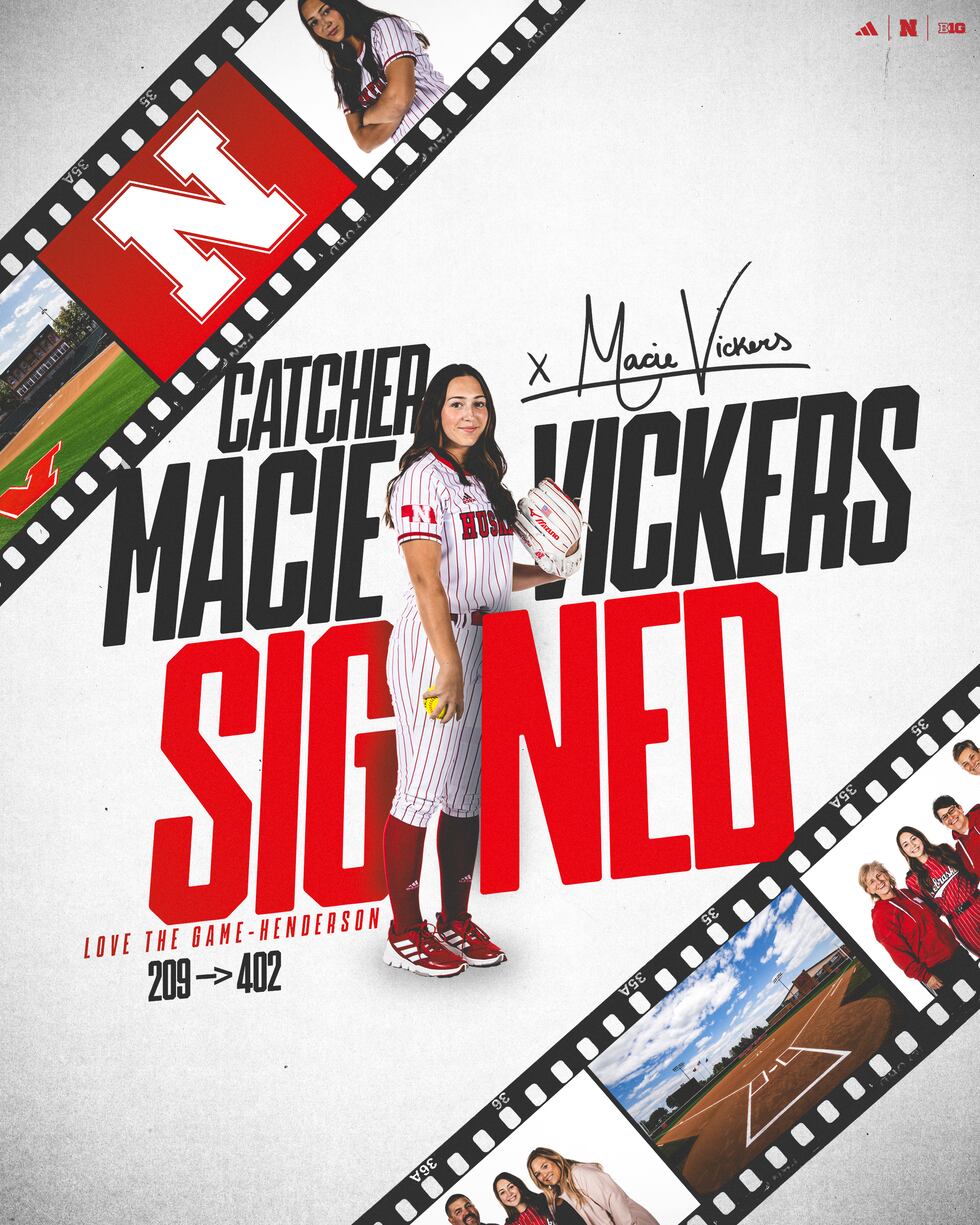 Macie Vickers, Catcher, Escalon, Calif. (Escalon HS/Love The Game – Henderson)
Macie Vickers is a talented athlete for Escalon High School in California. In addition to being a catcher for the softball team, Vickers also played volleyball and basketball, and she served as a captain for all three teams. Vickers played her club softball for LTG – Henderson.
On the softball diamond, Vickers will serve as a captain for the third time this spring for Escalon. A four-year member of the varsity team, Vickers has been an all-league selection in each of her first three seasons. She is also Escalon's two-time offensive player of the year and an all-district selection. As a junior, Vickers was the Trans Valley League Offensive Player of the Year and an all-state nominee. She also made the watch list for the 2023 PGF Futures All-American Game.
Outside of softball, Vickers was captain of the Escalon volleyball and basketball teams. She was an all-league selection on the volleyball court and helped her team to back-to-back section championships. In basketball, Vickers was a four-year member of the varsity team and three-year captain. A two-time team MVP, Vickers was the 2022 league MVP and was named to the all-district team.
Coach Revelle on Macie: "Macie is a multi-sport athlete who has been a leader on every team she has ever played on, which as a catcher is an integral part of being excellent at her position. Macie has the ability to be an impact player both offensively and defensively. We are excited to have Macie don the scarlet and cream."
Vickers on Nebraska: "I chose Nebraska because it felt like a home away from home. The second I stepped off the plane in Lincoln I knew this is where I wanted to spend the next four years. I loved how close the team was and how welcoming they were. When looking for a college I want it to resemble my hometown and that's exactly what Nebraska did. It gave me the small-town feel and the whole community comes together to support athletics. By the end of my first visit the coaches made not only me but my parents feel as if we were joining a new family. I always try to pray and get clarity and see what God wants for my future and from day one I felt that's where God wanted me."
Kennadi Williams, Utility, Lincoln, Neb. (Southwest HS)
Kennadi Williams will play two sports at Nebraska, as she will be a member of the Husker women's basketball team in addition to playing on the softball team. Williams starred in both sports for Lincoln Southwest High School.
On the softball diamond, Williams led all of Class A in runs scored as a senior, when she was named Lincoln Southwest's team captain and best offensive player. Williams helped the Silver Hawks to the state semifinals in her senior season. She missed her junior season while recovering from an injury, but Williams was a key part of Southwest's 2021 state championship team. That season, she hit .362 as the starting shortstop with six home runs, seven doubles and 29 RBIs. She was named the team's most improved player and best defensive player. Williams was an honorable-mention all-state selection as a sophomore, while accolades from her senior season have yet to be announced.
On the basketball court, Williams was limited to late-season action in her junior campaign as she recovered from an injury. As a sophomore, Williams averaged 11.9 points, 3.2 assists and 3.0 steals per contest while earning second-team Super-State honors from the Lincoln Journal Star. Her play helped Southwest to a state runner-up finish.
Williams also played soccer for Lincoln Southwest. As a sophomore, Williams helped Southwest qualify for state in all three sports.
Kennadi is the daughter of Nebraska women's basketball head coach Amy Williams. Amy (Gusso) Williams also played basketball for Nebraska from 1994 to 1998. Kennadi's father, Lloyd, was also a college basketball player at UT San Antonio.
Coach Revelle on Kennadi: "Kennadi is an amazing competitor who only knows how to play the game one way—all out. In addition to being a gifted athlete, Kennadi has outstanding speed and is a constant threat on the base paths. We are anxious to have Kennadi join the Husker family and wear the jersey from the only school she has dreamed of playing for—Nebraska."
Williams on Nebraska: "I chose Nebraska because I was given the opportunity to play both softball and basketball, along with the amazing coaching staff and players that have been really supportive and positive throughout this whole experience!"
Click here to subscribe to our 10/11 NOW daily digest and breaking news alerts delivered straight to your email inbox.
Copyright 2023 KOLN. All rights reserved.