Husker volleyball set for home finale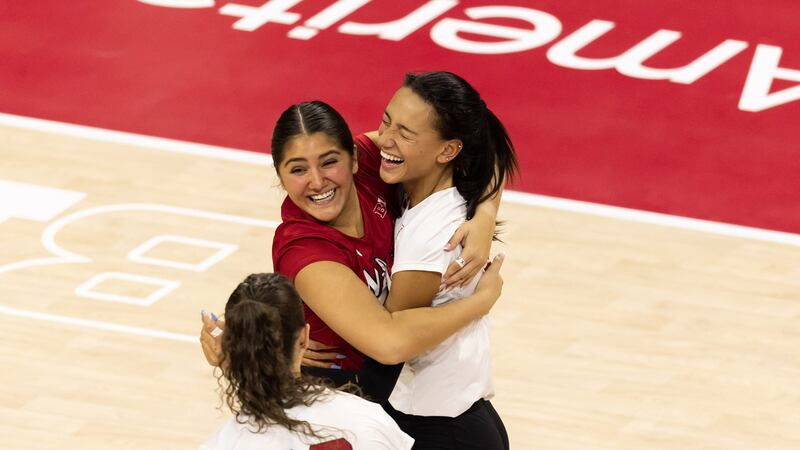 Published: Nov. 16, 2023 at 1:29 PM CST
LINCOLN, Neb. (KOLN) - MATCH PREVIEW
• The No. 1 Nebraska volleyball team enters the final two weeks of the regular season with a Big Ten title on the line. The Huskers will play their regular-season home finale against Michigan on Friday at 8 p.m. Nebraska will conclude the weekend at Iowa on Sunday at 2 p.m.
• Friday's match will be televised on Big Ten Network and streamed on FoxSports. Sunday's match will not be televised but will have a B1G+ stream.
• The Huskers Radio Network will broadcast all the action on their radio affiliates, including 107.3 FM in Lincoln and AM 590 in Omaha. A live audio stream will be provided at Huskers.com and on the Huskers app.
• John Baylor is in his 30th season doing play-by-play for the Husker volleyball program. Lauren (Cook) West, a former All-American setter for the Huskers, will provide color commentary.
ABOUT THE HUSKERS
• Nebraska (25-0, 16-0 Big Ten) is off to its best start to a season since beginning the 2005 season with a 28-0 record. • The Huskers' 16-0 start to Big Ten play is a program best since joining the conference in 2011.
• Nebraska is 16-0 in home matches this season entering their regular-season home finale on Friday. The last time the Huskers went undefeated at home in the regular season was 2017 (15-0). • At 16-0 in Big Ten play, Nebraska enters the week with a two-game lead on Wisconsin (14-2). With a pair of wins this week over Michigan and Iowa, the Huskers would clinch at least a share of the Big Ten championship heading into the final week of the regular season. Wisconsin has won the last four Big Ten titles.
• Nebraska has won three Big Ten titles since joining the conference in 2011. The years were 2011 (17-3), 2016 (18-2) and 2017 (19-1, co-champions). • All-time, Nebraska volleyball has won 34 conference titles. John Cook has been head coach for 12 of them.
• The Huskers, who led the nation in defense in 2022, have held their opponents this season to a combined .134 hitting percentage, which leads the nation.
• Nebraska has been sharp offensively this season, hitting .285 to rank 10th nationally and second in the Big Ten. The Huskers lead all Big Ten teams and rank 11th nationally with 14.06 kills per set.
• Two-time All-American and All-Big Ten libero Lexi Rodriguez paces the Husker defense with 3.54 digs per set.
• Junior opposite hitter Merritt Beason, a Florida transfer, contributes a team-leading 3.80 kills per set and adds 2.01 digs per set with a team-high 25 service aces. Beason is a four-time Big Ten Player of the Week this season and was the AVCA National Player of the Week on Oct. 24 following 21 kills in a 3-2 win over No. 1 Wisconsin.
• Freshman outside hitter Harper Murray is averaging 3.26 kills per set and 1.97 digs per set with a team-high 25 service aces. Murray has been named Big Ten Freshman of the Week three times this season.
• Junior outside hitter Lindsay Krause adds 2.50 kills per set and has a .366 hitting percentage since the Sept. 29 win at Purdue, though she has not played since Oct. 14 because of an injury.
• Sophomore middle blocker Bekka Allick leads the Huskers at the net with 1.32 blocks per set to go with 1.78 kills per set.
• Freshman middle blocker Andi Jackson is off to a strong start as a Husker, averaging 2.16 kills per set on a team-high .423 hitting percentage, which ranks second among Big Ten players and 11th nationally. Jackson is also contributing 1.10 blocks per set. Jackson was named Big Ten Freshman of the Week on Nov. 13 after averaging 2.13 kills per set and 1.13 blocks per set with a blistering .714 hitting percentage in Nebraska's 3-1 wins over Northwestern and Illinois.
• Freshman setter Bergen Reilly is putting up 10.71 assists and 2.54 digs per set. Reilly, who leads all Big Ten players in assists per set and ranks 13th in the nation, became just the second true freshman setter to be a day one starter under John Cook (Nicklin Hames). Reilly has been named Big Ten Setter of the Week four times this year and Big Ten Freshman of the Week twice.
• From Sept. 12-Sept. 29, Nebraska played five straight ranked teams and won all five matches. It was the sixth time in school history Nebraska played five matches in a row against ranked teams but the first time NU won all five.
• The Huskers went undefeated in non-conference play for the first time since 2016 and just the second time since 2008.
Click here to subscribe to our 10/11 NOW daily digest and breaking news alerts delivered straight to your email inbox.
Copyright 2023 KOLN. All rights reserved.