Spreading holiday cheer: UNK sorority creates care packages for military members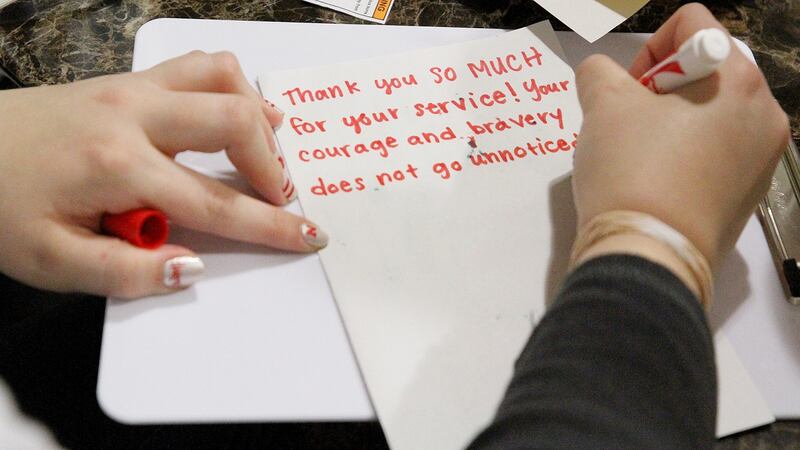 Published: Nov. 16, 2023 at 10:53 AM CST
KEARNEY, Neb. - Chad Martin knows what it's like to spend the holidays away from family.
He's served in the military for almost 30 years and been on multiple deployments during that time.
"I'm blessed with a lot of family members who support the military, so they'll send us a lot of stuff while you're overseas during the holidays," he said. "But there are a lot of people serving overseas who don't have that luxury."
Chad is a crew chief superintendent in the Nebraska Air National Guard's 155th Air Refueling Wing based in Lincoln. His daughter Paiton is a junior at the University of Nebraska at Kearney, where she's part of the radiologic technology pre-professional program.
The two were together Tuesday evening for a special project organized by Paiton and her sorority.
Chad made a surprise trip from Lincoln to Kearney to be part of Sisters for Soldiers, an annual event hosted by Alpha Omicron Pi. In its 11th year, the project is a way to thank U.S. military members for their service and sacrifices while spreading holiday cheer to the men and women stationed around the world.
"This kind of hits home for me," Chad said of the project. "To get this kind of support, that really raises everyone's spirits."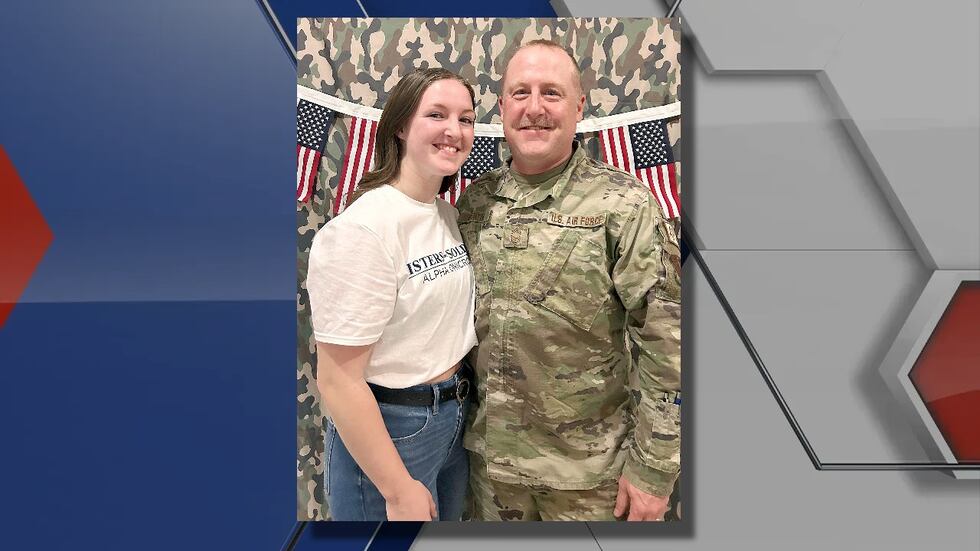 With help from the campus and Kearney communities, the UNK sorority put together 350 care packages that will be delivered to military members serving overseas. Each box contains items such as crossword puzzles, toiletries, candy, snack foods and flavored drink mixes, along with a holiday card created by a sorority member or another attendee.
Alpha Omicron Pi provided fresh hot chocolate, homemade cookies, festive tunes and even some singing and dancing to get everyone in the right mood.
Paiton, the sorority's director of philanthropy, wants to share that feeling with each recipient.
"I hope they know that people here are thinking about them," she said. "We appreciate what they do and support them, especially during this important time of year when they're away from loved ones."
Sorority members started collecting donations for the project earlier this month. That money is used to purchase items for the care packages and cover shipping costs. Any remaining funds will be donated to the Central Nebraska Veterans' Home or another military-related cause.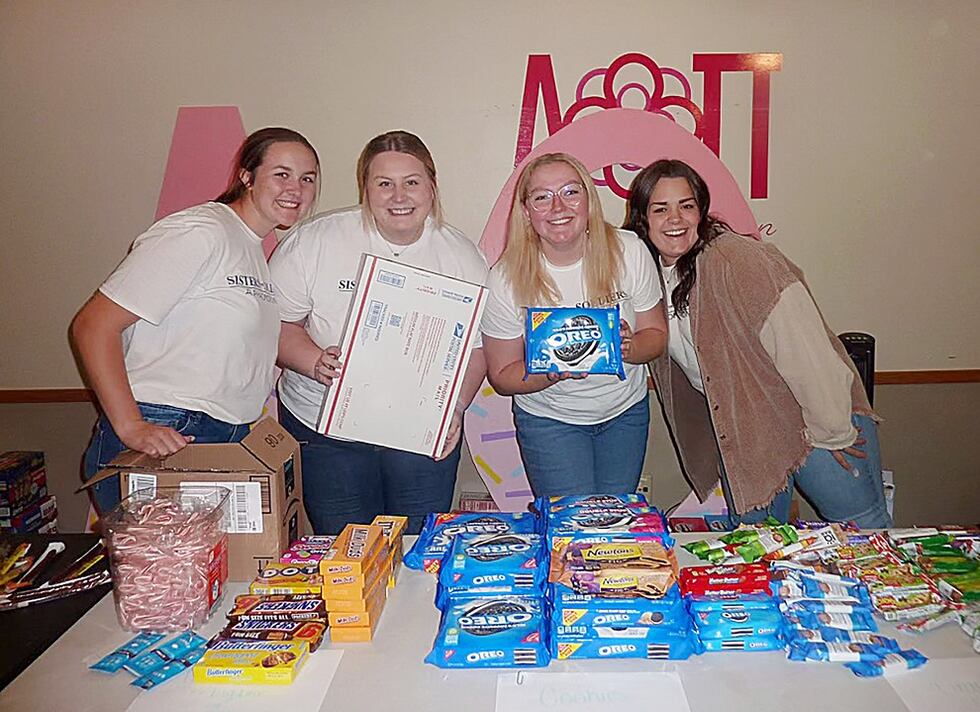 "It's incredible to see how much the community supports this and loves this event," Paiton said. "When we're out collecting donations, we get to hear everybody's stories and learn about their connections to the military. That's probably my favorite part. With everything happening in the world right now, our country needs that support and that love, so it's super cool to see."
Some of the holiday care packages will be sent to specific military members and the others will be shipped to Soldiers' Angels, a Texas-based nonprofit that will distribute the boxes to overseas military bases. They'll all arrive before Christmas.
"I'm proud to see all these girls get together and support a cause that's personal and meaningful to me and to those military members," Chad said. "Sometimes we have a job to do that's maybe not the most glamorous, but to get support like this from back home and from a place like this is pretty special."
Click here to subscribe to our KSNB Local4 daily digest and breaking news alerts delivered straight to your email inbox.
Copyright 2023 KSNB. All rights reserved.