Nebraska, Iowa heroes to be honored Friday at Memorial Stadium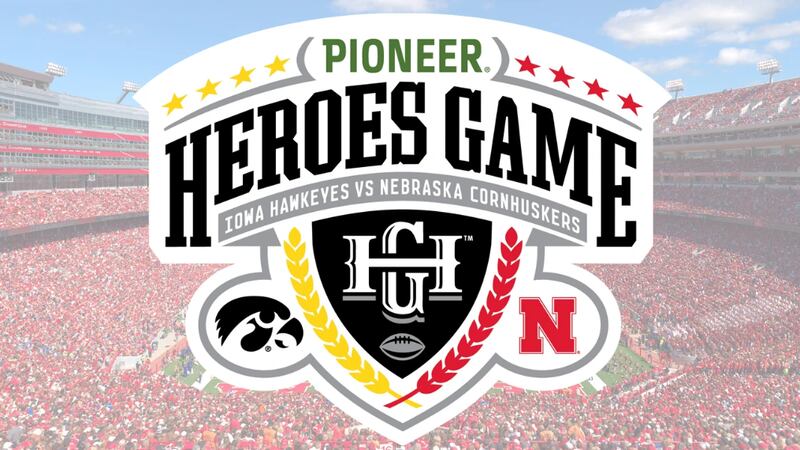 Published: Nov. 20, 2023 at 11:38 AM CST
LINCOLN, Neb. (Nebraska Athletics) - Nebraska and Iowa will meet Friday in Lincoln for the 13th annual Heroes Game, presented by Pioneer. As part of the rivalry game, citizen heroes were selected from each state, with Josh Hicks chosen as Nebraska's Hero and Eric Kumm selected as Iowa's Hero. Both recipients will be recognized Friday at Memorial Stadium.
The Heroes Game was created to honor the rich football traditions of the University of Iowa and the University of Nebraska football programs while also annually honoring community heroes in both states. The 2023 citizen heroes have positively impacted the community and stand as an inspiration to others.
Hicks, a Lincoln native, will be honored as the Nebraska Hero. An HVAC technician accustomed to heavy lifts was at the right place at the right time, as he played a pivotal role in rescuing and pulling a man from a van that tumbled off a highway into a lake near Wichita, Kansas this past July.
When asked by the Lincoln Journal Star if felt like what he did was heroic, Hicks responded by saying, "I had no idea who was in that van. Don't care. Don't know if they're hurt, we're just gonna go down there and check it out, make sure if anybody needs our help, we're there," he said. "There was no, 'I'm gonna go out and be a hero and save some lives today.'"
Eric Kumm, a vocational agriculture teacher and FFA advisor since 1997 in the South O'Brien school district, has been an incredible influence on countless young minds. There are many kids in rural Iowa who found their love and passion for agriculture under his tutelage. Without his guidance, many small towns in Northwest Iowa would be without veterinarians, agronomists, welders, ag teachers, farmers and many other ag related jobs that students found their passion for under Eric.
"Pioneer is incredibly grateful to honor both Josh and Eric for their heroic and impactful efforts in our Midwest communities," said Jeremy Renz, Pioneer US Marketing Director. For nearly 100 years, we've been helping and honoring farmers throughout the U.S. and we are excited to keep that tradition going by honoring local heroes that live and work in the communities we serve every day. This partnership is one small way we can express our sincere gratitude for those heroes."
Hicks and Kumm will attend the game as special guests of the teams, receive on-field recognition at halftime, and have their names inscribed on the game trophy.
Pioneer, a current partner of both the Iowa Hawkeyes and Nebraska Cornhuskers, is a multi-year title sponsor of the Heroes Game. The ongoing relationship between Pioneer and Nebraska is overseen by Husker Athletic Partners, a Playfly Sports Property, the university's athletics multimedia rightsholder. The ongoing relationship between Pioneer and Iowa is overseen by Learfield's Hawkeye Sports Properties, the University's athletics multimedia rightsholder and locally based team.
About Pioneer
Pioneer, the flagship seed brand of Corteva Agriscience, is the world's leading developer and supplier of advanced plant genetics, providing high-quality seeds to farmers in more than 90 countries. Pioneer provides agronomic support and services to help increase farmer productivity and profitability and strives to develop sustainable agricultural systems for people everywhere. Join the discussion and follow Pioneer on Facebook, Twitter, Instagram and YouTube.
About Corteva Agriscience
Corteva, Inc. (NYSE: CTVA) is a publicly traded, global pure-play agriculture company that combines industry-leading innovations, high-touch customer engagement and operational execution to profitably deliver solutions for the world's most pressing agriculture challenges. Corteva generates advantaged market preference through its unique distribution strategy, together with its balanced and globally diverse mix of seed, crop protection, and digital products and services. With some of the most recognized brands in agriculture and a technology pipeline well positioned to drive growth, the company is committed to maximizing productivity for farmers, while working with stakeholders throughout the food system as it fulfills its promise to enrich the lives of those who produce and those who consume, ensuring progress for generations to come. More information can be found at www.corteva.com.
Click here to subscribe to our 10/11 NOW daily digest and breaking news alerts delivered straight to your email inbox.
Copyright 2023 KOLN. All rights reserved.