Loper volleyball pushes NCAA streak to 24 straight years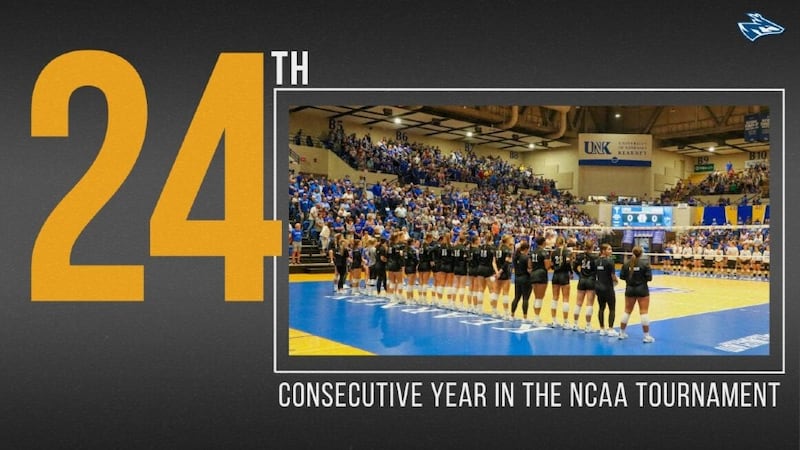 Published: Nov. 20, 2023 at 8:22 PM CST
HASTINGS, Neb. (UNK Athletics) - The 13th-ranked Nebraska-Kearney volleyball team is in the NCAA Tournament for a 24th straight season and will battle seventh-ranked Southwest Minnesota State in the first round of the Central Regional.
The 64-team NCAA Tournament field -- eight schools from each of D2 II's eight regions -- was announced tonight. The complete bracket is available HERE; region winners advance to the Elite Eight, held this year December 7-9 in Pittsburgh. The Central Regional will be Friday-Sunday (Nov. 30-Dec. 2) in St. Paul, Minn., with Concordia-St. Paul serving as host. NCAA Volleyball Logo
The Lopers (28-5) were ranked sixth in the most recent region rankings and remained so after reaching the MIAA Tourney semis. The SMSU Mustangs (28-6) dropped their regular season finale to Concordia and their NSIC Tournament quarterfinals match to Minnesota-Duluth but kept the third seed.
The Blue & Gold beat Southwest, 3-1, in both the 2010 and 2012 NCAA's with the 'Stangs defeating the Lopers, 3-2, in the 2014 tourney. The UNK/SMSU winner takes on Wayne State or UMD.
UNK is 33-26 all-time in the NCAA's, advancing to the Elite Eight in 2019, 2005, 2004, 2003, 1996 and 1995. The Lopers were National Runners up in 2019 and 2005. Finally, the 24-year NCAA run trails only the University of Tampa as the Spartans have made the "Big Dance" the past 27 years.
Click here to subscribe to our KSNB Local4 daily digest and breaking news alerts delivered straight to your email inbox.
Copyright 2023 KSNB. All rights reserved.