GIPS holds stadium groundbreaking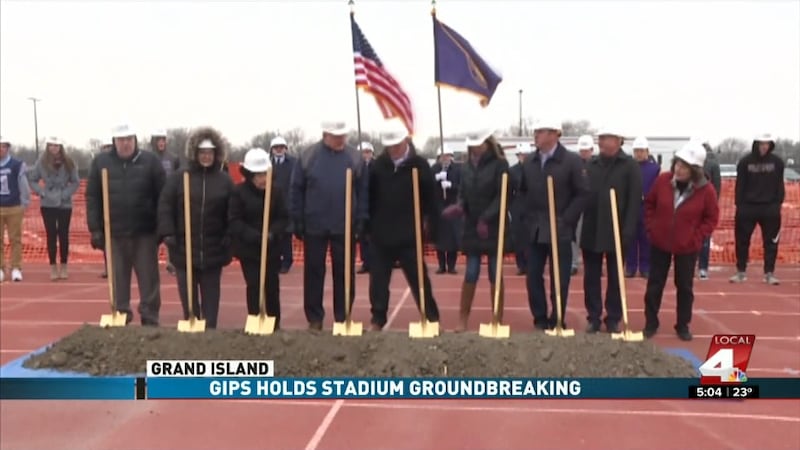 Published: Jan. 21, 2019 at 10:41 PM CST
After years of planning, Grand Island Public School officials broke ground on Memorial Stadium Monday.
They braved the cold to symbolically dig eight golden shovels into the ground to scoop the first part of dirt at the stadium.
Jane Richardson, co-chair of the Memorial Stadium Campaign, said they've been working on the project for several years.
She said she was excited to see all their hard work pay off.
"It's going to do a lot of great things for the community," Richardson said. "We can bring in new teams, lots of activities. Not only Grand Island Senior High can use it, but also Central Catholic or the band, the athletic teams. Just a lot of great things for the community."
The first phase of the project will make updates to the West Stadium. It'll increase permanent seating capacity from 2,896 to 5,109; and make improvements to the restrooms, concessions and locker rooms. There'll also be seating that meets current ADA codes and regulations.
Total project costs came in at about $17 million with the expanded project.
Lanny Martin, a 1964 GISH graduate, was the lead donor for the campaign. He donated $10 million for the project, and returned to his Alma Mater Monday for the ceremony.
"Grand Island Senior High School and the community of Grand Island have meant so much to me in terms of I've been able to live, and the enjoyment I've had in life, and it all started here in Grand Island. So I'm just kind of paying it back to a community that gave me a lot," Martin said.
Board members said they're still looking to raise about $5 million for the project.
They said if you'd like to make a donation, you can contact the Grand Island Public Schools Foundation.