Group educates state fair-goers on signs of human trafficking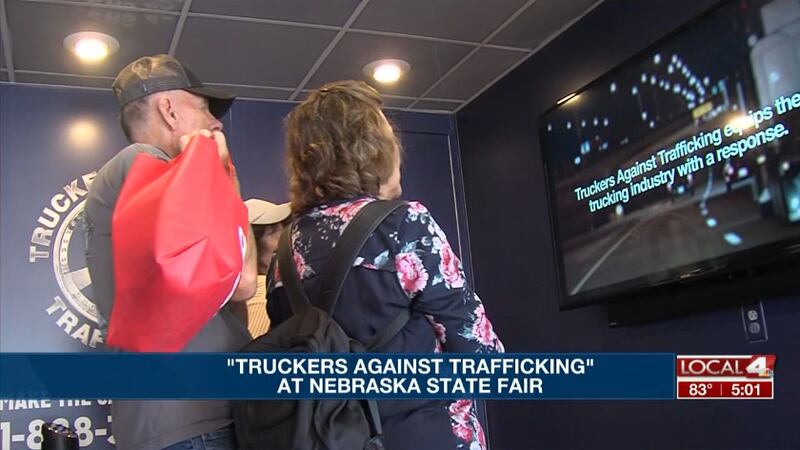 Published: Sep. 1, 2019 at 7:26 PM CDT
Forty-million people are victims of human trafficking every year, which is a number one organization hopes to change.
Truckers Against Trafficking has their mobile museum called the "Freedom Drivers Project" at the Nebraska State Fair. The exhibits connect you to nine of the millions of human trafficking victims around the world.
People can read their stories, and view items the victims had on them when they were trafficked, such as clothing and cellphones.
About halfway through the trailer, you can find a mirror with the word "Naughty" written across the top. It was donated by two cousins, who were 14 and 15 years old when they were trafficked.
"This mirror was something they actually had in their garage that they told the girls they had to practice stripping in front of," said Helen Van Dam, director of the Freedom Drivers Project. "Whether people are being recruited from a location, sold in a location or transported through a location, wherever you are you could be witnessing trafficking."
Starting out, the organization focused on educating truck drivers on how to recognize signs of sex trafficking. Part of the reason is because they drive through areas where human trafficking happens, such as motels and rest areas.
"Truck drivers are in these locations regularly. They're already really vigilant. They know what to look for, and they can call it in. That's why we know that the trucking industry is strategic to ending this crime," Van Dam said.
Now, they've included other occupations, including the busing and health industries, as well as the general public.
Nebraska isn't immune to this crime. The National Human Trafficking Hotline received more than 80 reported cases of human trafficking in Nebraska in 2018.
That's why the Nebraska State Patrol is supporting organizations like Truckers Against Trafficking.
"We've had cases reported all over the state," said Lt. Monty Lovelace, Nebraska State Patrol. "They've become very good at flying underneath the radar. What we try to train our people in is to look for indicators and really look in different places that you wouldn't normally think of."
That kind of vigilance is encouraged for everyone.
Red flags for human trafficking include signs of abuse, such as bruises; branding or tattoos, especially on the neck; restriction or controlled communication; lack of knowledge on whereabouts; a strange vehicle dropping someone off, then picking them up 15-20 minutes later; and a young person wearing clothing that seems inappropriate for their age.
If you see something that doesn't look right, you can call the National Human Trafficking Hotline at 888-373-7888. It's open 24/7.
"It's never a problem if you're wrong. You can be wrong all day long. The problem is if you see something and don't say anything, and there's actually something occurring you've missed an opportunity to impact someone's life," Lovelace said.