New project to digitize old Hall County newspapers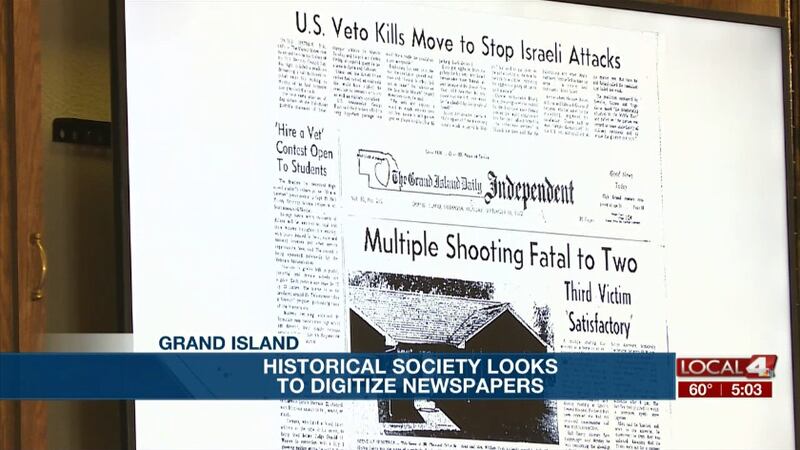 Published: Apr. 28, 2019 at 6:57 PM CDT
The Hall County Historical Society looks to bring history hot off the press and straight to your computer screen.
The non-profit wants to digitize 28 Hall County newspapers dating back to the 1870s through the 21st Century.
"The first record of a community is really founded in news print. It's not found in books," said Michelle Setlik, a board member with the Hall County Historical Society. "That's really what we're after. We want to get that history into people's hands. We want to make it usable for everyone wherever they are, if they're at school or if they're at home."
It's for their Newspaper Digitization Project and Go Big Give campaign, which they announced Sunday at their pre-give event called a "Newsworthy BBQ" at Burlington Station.
People could enjoy some pulled-pork sandwiches and deserts while learning about the new project.
The newspapers are currently micro-filmed. To access them, you have to go to a library.
Setlik said while that was great at the time, these newspapers need to be more accessible for people in today's world.
"There's so much fascinating history. It's the history of a community, but it's also the history of the nation and the world, and how it was viewed by different people," Setlik said.
She said they've pulled clips about the World Wars, the Great Depression, the stock market crash, the tornado that ripped through Grand island and the Sugar Beet factory closing in the '60s.
The non-profit is pairing with newspapers, libraries and museums in Hall County for the project.
Setlik said they need to raise $150,000 to buy the old newspapers.
Two-thirds of the money they raise during the Go Big Give campaign will go toward this project. The rest will go toward building maintenance and other projects.
The day of online giving is on May 2. You can also donate directly to the Hall County Historical Society, or subscribe to one of the old newspapers.