Audubon Rowe Sanctuary plans for future of crane habitat amid climate change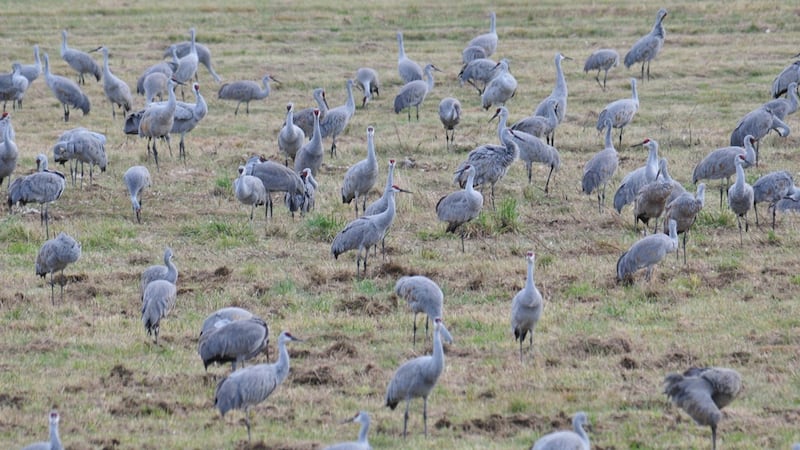 Published: Nov. 30, 2018 at 6:12 PM CST
There are still a few months until the annual Sandhill Crane migration, but the Audubon Rowe Sanctuary is planning ahead for the long term future of the cranes.
With climate change playing a role they need to preserve the crane's habitat now.
The Platte River has changed significantly over the last century and those changes present some challenges for the sanctuary trying to keep the river just right for the crane migration.
The River has become deeper and narrower than it was nearly a century ago. Which is not ideal for cranes trying to roost.
In regards to climate change, some of the concerns are that the snow pack from the Colorado Rockies will be completely gone in the next half century. The water from that snow is what determines the flow of the river.
Also, a lot of the water is redirected before it even gets to Gibbon where the sanctuary is. This has had an impact on how the river flushes out brush along the river in the spring.
"So we work with partners from all up and down the river from Colorado and Wyoming all the way down stream to the Missouri to really create a resilient Platte River for climate and other issues," Audubon Rowe Sanctuary Director Bill Taddicken said.
Those partners help how to best divert the water for irrigation purposes as well as maintaining the crane's habitat.
"A lot of that work is going on through the Platte River recovery program and in 1997 we all got together and created a management plan for the river and now we are implementing it and we are working with the state of Colorado, Wyoming, and Nebraska, and the federal government to manage that, to manage the water, and the right quantities at the right time," Taddicken said.
As part of the 50 year plan the sanctuary is working on, it will be expanding the viewing areas and trails around the river to meet the demand of tourism. Thousands of people travel to the Rowe Sanctuary each spring.
"Well this is the only place in the entire world where this many cranes get together," Taddicken said. "This is the largest migration of its sort in North America. We call it america's greatest migration. Besides having 600,000 Sandhill Cranes we have the entire population of the native whooping cranes that are still coming through which is about 600 birds."
Officials at the sanctuary say preserving these cranes is important because they are beloved by cultures all around the world and even resemble humans in the way they act.
If you would like to learn more about the 50 year plan and volunteering opportunities at the sanctuary, there is a Pie on the Platte fundraising event on December 6th.